The Perilous Frontier: Nomadic Empires and China, 221 BC to AD 1757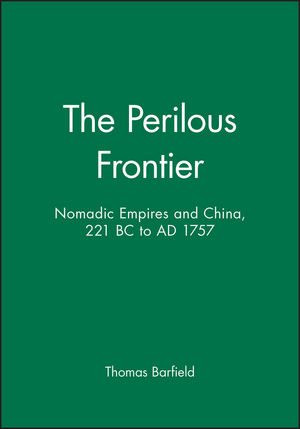 The Perilous Frontier: Nomadic Empires and China, 221 BC to AD 1757
ISBN: 978-1-557-86324-9
Jul 1992, Wiley-Blackwell
348 pages
Description
Around 800 BC, the Eurasian steppe underwent a profound cultural transformation that was to shape world history for the next 2,500 years: the nomadic herdsmen of Inner Asia invented cavalry which, with the use of the compound bow, gave them the means to terrorize first their neighbors and ultimately, under Chingis Khan and his descendants, the whole of Asia and Europe. Why and how they did so and to what effect are the themes of this history of the nomadic tribes of Inner Asia - the Mongols, Turks, Uighurs and others, collectively dubbed the Barbarians by the Chinese and the Europeans.

This two-thousand year history of the nomadic tribes is drawn from a wide range of sources and told with unprecedented clarity and pace. The author shows that to describe the tribes as barbaric is seriously to underestimate their complexity and underlying social stability. He argues that their relationship with the Chinese was as much symbiotic as parasitic and that they understood their dependence on a strong and settled Chinese state. He makes sense of the apparently random rise and fall of these mysterious, obscure and fascinating nomad confederacies.
Editor's Preface.
Preface.
Acknowledgements.
Notes on Transliterations.
1. Introduction: The Steppe Nomadic World.
2. The Steppe Tribes United: The Hsiung-nu Empire.
3. The Collapse of Central Order: The Rise of Foreign Dynasties.
4. The Turkish Empires and T'ang China.
5. The Manchurian Candidates.
6. The Mongol Empire.
7. Steppe Wolves and Forest Tigers: The Ming, Mongols and Manchus.
8. The Last of the Nomad Empires: The Ch'ing Incorporation of Mongolia and Zungharia.
9. Epilogue: On the Decline of the Mongols.
Bibliography.
Index.
"An excellent piece of work ... Barfield writes clearly, with a gratifyingly total absence of social scientific jargon ... his case is put with impressive cogency."
Journal of the Royal Asiatic Society
"Barfield's significant and demanding book brings to a general audience a challenging new interpretation of relations between China and her northern neighbours ... provocative and persuasive ... Highly recommended." Choice
"Barfield's study is rich and provocative." Graham E. Johnson, University of British Columbia
"A welcome addition to the literature on the relations between Central Asian empires and China in premodern times. Thomas J. Barfield provides us with stimulating interpretations." American Historical Review
"Excellent study of Chinese-nomadic relations. Weaves a fascinating and detailed tapestry. This excellent work awakens the reader to another level affected by the emerging world system in the nineteenth century." The International History Review
"The appearance in paperback of this book is welcome. Breaking moulds." Asian Affairs
"Fine study. A most welcome addition to the literature." Bulletin School of Oriental and African Studies
As is an anthropologist, Barfield succeeds in testing abstract models of society against the detailed historical record
The author has an accessible, narrative style.