The Persistence of Modernity: Aesthetics, Ethics and Postmodernism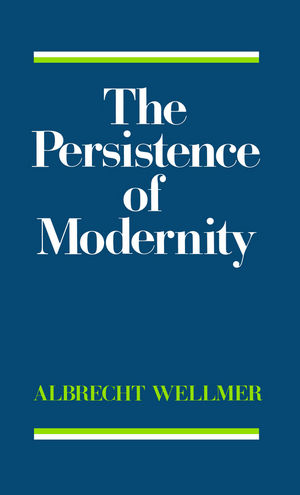 The Persistence of Modernity: Aesthetics, Ethics and Postmodernism
ISBN: 978-0-745-60538-8
Sep 1991, Polity
236 pages
Description
In this timely new book Wellmer intervenes in the highly topical debates on modernity and post-modernity. Discussing the work of Adorno, Habermas, Peter Burger and Jean-Fran&ccedilois Lyotard, among others, he offers a penetrating analysis of the aesthetic, ethical and philosophical dimensions of the modern era. In opposition to those who view post-modernity as a sign of post-enlightenment, Wellmer makes a reasoned plea for a re-examination of the goals of emancipatory Enlightenment and explores its implications for the appreciation of modern art forms.
Introduction.1. Truth, Semblance, Reconciliation: Adorno's Aesthetic Redemption of Modernity.2. The Dialectic of Modernism and Postmodernism: The Critique of Reason Since Adorno.
'Albrecht Wellmer is one of the liveliest and most challenging German philosophers engaged in recent debates about modernity and postmodernity ... [a] rich and stimulating book ... essential reading.'
Richard J. Bernstein, New School for Social Research
'Contributes a good deal to the clarification of the issues currently being debated by theorists of post-modernity.' Political Studies
This timely book will be a valuable contribution to the topical debates on modernity and post-modernity
Wellmer has a well-established reputation as a critical theorist and associate of Habermas.