The Personalized High School: Making Learning Count for Adolescents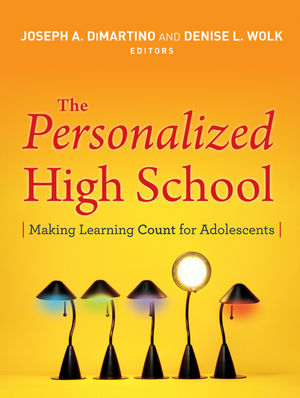 The Personalized High School: Making Learning Count for Adolescents
ISBN: 978-0-787-99489-1
Jun 2010
224 pages
Description
The National High School Alliance developed six Call to Action principles—personalized learning environments; academic engagement for all students; empowered educators; responsive and accountable leaders; engaged community and youth; and an integrated system of curriculum, instruction, and assessments aligned to high standards with supports for teaching and learning. Drawing on these proven principles, The Personalized High School offers a series of first-hand accounts for implementing effective high school reform. The authors take an in-depth look at how a diverse array of schools from across the country have crafted programs to create more effective learning experiences for students, with insights on the challenges faced, lessons learned, and what this means for any educator contemplating implementing similar reforms.
The chapters are written by veteran educators who have worked in these innovative schools, and illustrate how the Call to Action principles provide practical examples for developing personalized learning plans, student portfolios and student-led conferences; creating professional learning communities for teachers; and implementing authentic assessments that empower students to demonstrate what they know and are able to do far beyond high-stakes standardized tests. Many of the chapters include vignettes written by students who have benefited from the innovative practices at the schools they have attended, providing testimony for the power of engaging students to take responsibility for their own learning. The Personalized High School is a powerful resource for teachers, administrators, district and state education officials, and community members to use in their journey to high school reform.
Acknowledgments.
Foreword (George H. Wood, Federal Hocking Middle and High School, Stewart, Ohio).
Preface: What the Research Says (Denise L. Wolk).
Introduction (Joseph A. DiMartino).
PART 1 Personalizing Your School Environment.
1 Advisories: Believe in Students First (Ricardo Leblanc-Esparza, Granger High School, Granger, Washington).
2 Personal Learning Plans: Making It Personal to Engage Students (Debbie Osofsky and Teri Schrader, Francis W. Parker Charter Essential School, Devens, Massachusetts).
PART 2 Making Learning Personal.
3 Curriculum: Changing Instructional Practice and the Long Path to Project-Based Learning (Paul Curtis, New Technology High School, Napa, California).
4 Instruction: Making Learning Personal (Ron Newell and Mark Van Ryzin, Minnesota New Country School, Henderson, Minnesota).
5 Assessment: Deepening Intellectual Curiosity by Using Exhibitions as Alternative Assessments (Catherine DeLaura, School of the Future, New York, New York).
PART 3 Sowing the Seeds for Change.
6 Collaborative Leadership: Changes and Challenges to the Idea of ""Traditional"" Neighborhood Schools (Virginia Eves, Madison High School, San Diego, California).
7 Professional Learning Communities: Teachers Talking Together and the Power of Professional Community (Linda Nathan, Boston Arts Academy, Boston, Massachusetts).
8 Integrating Student Leadership: A Personalized Approach to Rigor (Jeff Park, Front Range Early College High School, Denver, Colorado).
Conclusion (Joseph A. DiMartino and Denise L. Wolk).
Appendix: School and Organization Contact Information.
About the Editors.
About the Contributors.
Index.