The Pfeiffer Book of Successful Team-Building Tools: Best of the Annuals, 2nd Edition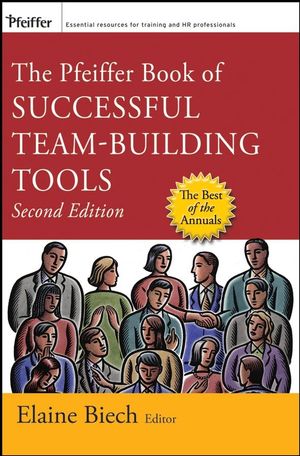 The Pfeiffer Book of Successful Team-Building Tools: Best of the Annuals, 2nd Edition
ISBN: 978-0-787-99736-6 October 2007 Pfeiffer 512 Pages
Description
Year after year, consultants, trainers, and human resource professionals have come to rely on The Pfeiffer Annuals to provide them with the most current and quality tools on a wide variety of topics. In this book, editor Elaine Biech and contributors to the Annuals have honed in on the important theme of team building to create the first topic-specific book in The Pfeiffer Annuals series. The Pfeiffer Book of Successful Team-Building Tools, 2nd Edition, includes an innovative ten-block model for building a high-performance team and draws on the best-on-the-topic articles from thirty-five years of Annuals volumes.
Buy Both and Save 25%!
Original Price:$97.00
Purchased together:$72.75
save $24.25
Cannot be combined with any other offers.
Introduction.
1 What Is Teamwork?.
2 A Model for Building Teamwork.
3 Clear Goals.
TeamScores: Measuring and Communicating Performance (Peter R. Garber).
High Jump: Illustrating the Impact of Expectations (Steven B. Hollwarth).
Team Identity (John E. Jones).
4 Defined Roles.
The Hats We Wear: Understanding Team Roles (Kristin Arnold).
No Strings Attached: Learning How Groups Organize to Complete Tasks (Jeyakar Vedamanickam).
Scope of Control: Taking Initiative in Problem Solving (Steve Sphar).
Yours, Mine, and Ours: Clarifying Team Responsibilities (Mike M. Milstein).
Symbols: Sharing Role Perceptions (Patrick Doyle).
The Search for Balance: Team Effectiveness (Tom Noonan).
5 Open and Clear Communication.
Hit the Target Fast: Designing a Communication System for Teams (Lynn A. Baker, Sr.).
Rope Trick: Experiencing How Groups Function (Meredith Cash).
Levels of Dialogue: Analyzing Communications in Conflict(Gary Copeland).
Strengths and Needs: Using Feedback for Group Development (Terri Burchett).
Analyzing and Increasing Open Behavior: The Johari Window (Philip G. Hanson).
6 Effective Decision Making.
News Room: A Group-Consensus Task (Heidi Ann Campbell & Heather Jean Campbell).
Broken Triangles: Experimenting with Group Problem Solving (Janet Mills).
Lutts and Mipps: Team Problem Solving (Editors).
Performance Unlimited: Solving Problems as a Team (James W. Kinneer).
Lost at Sea: A Consensus-Seeking Task (Paul M. Nemiroff & William A. Pasmore).
Making Team Decisions (Kristin Arnold).
7 Balanced Participation.
Egg Drop: Using Human Resources Effectively (Douglas Bryant).
Comfort Zones: Establishing Team Norms (Chris C. Hoffman).
The Car: Feedback on Group Membership Styles (Alfred A. Wells).
8 Valued Diversity.
Unearned Privilege: Understanding Dominant-Culture Advantage (Julie O'Mara & Aja Oakman).
The Forest vs. the Trees: Understanding Preferences for the Big Picture or the Details (Bonnie Jameson).
Fourteen Dimensions of Diversity: Understanding and Appreciating Differences in the Work Place (Sunny Bradford).
Diversity and Team Development (Claire B. Halverson & Guillermo Cuéllar).
9 Managed Conflict.
The M&M® Game: Learning to Resolve Conflict (Gerald V. Miller).
They Said, We Said: Exploring Intergroup-Conflict Resolution (Jason Ollander-Krane & Neil Johnson).
Conflict Management: Developing a Procedure (Lawrence C. Porter).
Storming to Norming: Clearing the Way for Team Agreement (Beverly J. Bitterman).
Intergroup Image Exchange: Exploring the Relationship Between Two Teams (Editors).
10 Positive Atmosphere.
Building Trust in Pairs: An Obstacle Course (Valerie C. Nellen & Susan B. Wilkes).
Trust ARCH: Building Team Support (Mary B. Wacker).
Work Dialogue: Building Team Relationships (Judith F. Vogt & Karen L. Williams).
A Note to My Teammate: Positive Feedback (Deborah M. Fairbanks).
Cornerstones: A Measure of Trust in Work Relationships (Amy M. Birtel, Valerie C. Nellen, & Susan B. Wilkes).
11 Cooperative Relationships.
Enablers and Barriers: Assessing Your Team (Karen Vander Linde).
This and That: Improving Team Performance (James W. Kinneer).
Team Checkup: Monitoring and Planning for Progress (Michael L. Mazzarese).
Prisoners' Dilemma: An Intergroup Competition (Editors).
Twenty-Five Questions: A Team Development Exercise (John E. Jones).
12 Participative Leadership.
Rope-a-Leader: Experiencing the Emergence of Leadership (John W. Peterson & Sherry R. Mills).
The Merry-Go-Round Project: Focusing on Leadership Style(Deborah Spring Laurel).
Team Interventions: Moving the Team Forward (Chuck Kormanski).
The Relationship Between Leader Behavior and Team Performance and Satisfaction (Mary Ann Burress).
Values-Based Leadership for the 21st Century (Robert C. Preziosi).
13 General Team-Building Tools.
Take Note of Yourself: A Team-Development Activity (Michael P. Bochenek).
I Have an Opinion: Opening an Event (Gail Rae-Davis).
Thumbs Up, Thumbs Down: A Conflict-Management Icebreaker (Roger Gaetani).
That's Me: Getting to Know Your Team Members (Debbie Seid).
Group Savings Bank: An Introductory Experience (Debera Libkind & Dennis M. Dennis).
The Team Effectiveness Critique (Mark Alexander).
The Team Orientation and Behavior Inventory (TOBI) (Leonard D. Goodstein, Phyliss Cooke, & Jeanette Goodstein).
What If We Took Teamwork Seriously? (W. Warner Burke).
Team Building (Anthony J. Reilly & John E. Jones).
What to Look for in Groups: An Observation Guide (Philip G. Hanson).
Opportunity to Publish Your Materials.
Reading List.
Pfeiffer Publications Guide.