The Philosophy of Art: An Introduction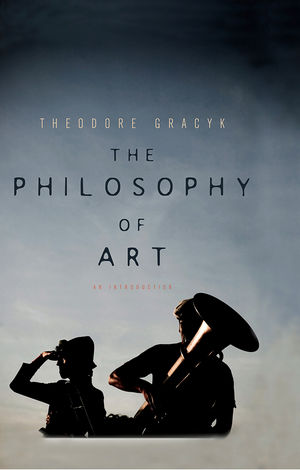 The Philosophy of Art: An Introduction
ISBN: 978-0-745-64916-0 December 2011 Polity 284 Pages
Download Product Flyer
Download Product Flyer
Download Product Flyer is to download PDF in new tab. This is a dummy description. Download Product Flyer is to download PDF in new tab. This is a dummy description. Download Product Flyer is to download PDF in new tab. This is a dummy description. Download Product Flyer is to download PDF in new tab. This is a dummy description.
Description
The Philosophy of Art
is a highly accessible introduction to current key issues and debates in aesthetics and philosophy of art. Chapters on standard topics are balanced by topics of interest to today's students, including creativity, authenticity, cultural appropriation, and the distinction between popular and fine art. Other topics include emotive expression, pictorial representation, definitional strategies, and artistic value. Presupposing no prior knowledge of philosophy, Theodore Gracyk draws on three decades of teaching experience to provide a balanced and engaging overview, clear explanations, and many thought-provoking examples.
All chapters have a strong focus on current debates in the field, yet historical figures are not neglected. Major current theories are set beside key ideas from Plato, Aristotle, Kant, Marx, and Hegel. Chapters conclude with advice on further readings, and there are recommendations of films that will serve as a basis for further reflection and discussion. Key ideas are immediately accompanied by exercises that will test students' reactions and understanding. Many chapters call attention to ideology, prejudices, and common clichés that interfere with clear thinking.
Beautifully written and thoroughly comprehensive, The Philosophy of Art is the ideal resource for anyone who wants to explore recent developments in philosophical thinking about the arts. It is also provides the perfect starting point for anyone who wants to reflect on, and challenge, their own assumptions about the nature and value of art.
Table of contents
Acknowledgements
Preface
1 Meaning, Interpretation, and Picturing
1 Representations and pictures
2 Theories of picturing
3 Intentions and transparency in pictures and photographs
4 Indiscernible counterparts
5 Fine art
2 Art as Expression
1 Overview of expression theories
2 Tolstoy's account of expressive art
3 Collingwood's account of expressive art
4 The expressive persona
5 Expression as arousal
6 Revising the arousal theory
7 Expression as cognitive recognition
3 Meaning and Creativity
1 Plato on creativity
2 Kant on genius
3 Metaphorical exemplification
4 Hegel and Marx
5 Material bases of creativity
6 Feminism and creativity
4 Fakes, Originals, and Ontology
1 Multiples and singularities
2 Abstract objects
3 Problems and implications
4 Fakes and originals
5 Objections and alternatives
5 Authenticity and Cultural Origins
1 Two kinds of contextualism
2 Four kinds of appropriation
3 Moral concerns
4 Culture
5 Authenticity
6 Modernity and authenticity
6 Defining Art
1 Philosophical definition
2 Historical background
3 Functional definitions
4 Institutional definitions
5 Historical definitions
6 The cluster account
7 Aesthetics
1 Aesthetic judgments and properties
2 Supervenience
3 Two complications
4 Aesthetics and nature
5 Formalism and detachment
6 Making special
7 Pleasure and appreciation
8 Beyond the Fine Arts
1 Popular and mass art
2 Standard criticisms of popular art
3 Social consequences of popular culture
4 Gender and race
5 Everyday aesthetics
9 Artistic and aesthetic value
1 Three kinds of value
2 The uniqueness thesis
3 Value empiricism
4 Instrumental value
5 An alternative analysis
6 Appreciation
7 Cognitive value
10 Conclusion
References
Index

Reviews
"A valuable introduction which is unusual in both offering students extremely clear accounts of philosophers' efforts in the field and also highly provocative and relevant questions for them to use as ways of digesting the material."
Consciousness, Literature and the Arts
"Gracyk's
Philosophy of Art
mingles deft presentation of philosophical positions with insightful examples of artworks that illustrate or challenge those positions. This clear and methodical introduction considers fine art as well as popular culture, and the text is interspersed with thought-provoking exercises. An excellent read for students and professionals alike."
Carolyn Korsmeyer, University at Buffalo (SUNY)
"Gracyk's book introduces classical questions in philosophy of art and fresh contemporary issues that will capture the interest of undergraduates. Written in a clear, accessible style, it is replete with examples drawn from the fine arts and popular culture. Gracyk succeeds in being both rigorous and engaging. Highly recommended."
James O. Young, University of Victoria
"With its fresh and even-handed approach to the most recent developments, its delightful use of example, and its clean prose, this book is the perfect introduction to how to use philosophy to think clearly, creatively, and deeply about art and the aesthetic."
Dominic McIver Lopes, University of British Columbia
Features
A highly accessible, comprehensive introduction to the key themes and debates in aesthetics and the philosophy of art.
Theodore Gracyk draws on over three decades of teaching experience to provide an engaging, example-led text, including plenty of exercises, which will be ideal for a student readership.
Provides a firm grounding in classic debates surrounding concepts such as expression, representation and value, covering key philosophers from Plato and Aristotle onwards.
Emphasises the very latest philosophical thinking on topics of interest to today's students, including cultural appropriation and the distinction between high and popular culture.