The Philosophy of Film: Introductory Text and Readings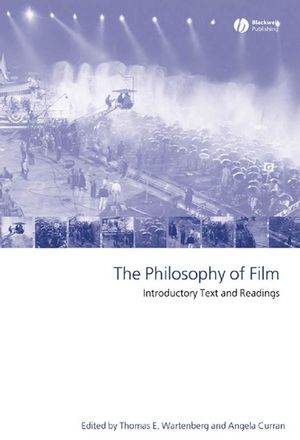 The Philosophy of Film: Introductory Text and Readings
ISBN: 978-1-405-11441-7
Feb 2005, Wiley-Blackwell
320 pages
Description
Organized around a series of philosophic questions about film, The Philosophy of Film: Introductory Text and Readings offers an accessible and engaging overview of the discipline.



Provides thorough selection of readings drawn from philosophy, film studies, and film criticism


Multiple points of view highlighted in discussion of film theory, narration, authorship, film and emotion, and the social values of cinema


Presents thought-provoking reading questions as well as clear and helpful introductions for each section
More information about this text along with further resources are available from the accompanying website at: http://www.mtholyoke.edu/omc/phil-film/index.html
Acknowledgments.
General Introduction..
Part I: Do We Need Film Theory?.
Introduction.
Study Questions.
1. Prospects for Film Theory (Noël Carroll).
2. Can Scientific Models of Theorizing Help Film Theory (Malcolm Turvey).
3. Philosophy of Film as the Creation of Concepts (Gilles Deleuze).
Part II: What Is the Nature of Film?.
Introduction.
Study Questions.
4. Defining the Photoplay (Hugo Munsterberg).
5. The Artistry of Silent Film (Rudolph Arnheim).
6. Cinematic Realism (Andre Bazin).
7. Film, Photography, and Transparency (Kendall L. Walton).
8. Non-fictional Cinematic Artworks and Knowledge (Trevor Ponech).
Part III: Do Films Have Authors?.
Introduction.
Study Questions.
9. La Politique des Auteurs (François Truffaut).
10. Auteur Theory and Film Evaluation (Andrew Sarris).
11. The Idea of Film Criticism (Pauline Kael).
12. Against Authorship (Stephen Heath).
13. DVD's and the Director's Intentions (Deborah Parker and Mark Parker).
Part IV: How Do Films Engage Our Emotions?.
Introduction.
Study Questions.
14. Narrative Desire (Gregory Currie).
15. Spectator Emotion and Ideological Film Criticismm (Carl Plantinga).
16. Engaging Characters (Murray Smith).
17. The Paradox of Horror (Noël Carroll).
Part V: Must Films Have Narrators?.
Introduction.
Study Questions.
18. Principles of Film Narration (David Bordwell).
19. The Cinematic Narrator (Seymour Chatman).
20. Narration as Showing (George M. Wilson).
Part VI: Can Films Be Socially Critical?.
Introduction.
Study Questions.
21. The Politics of Representation (Michael Ryan and Douglas Kellner).
22. But Would You Want Your Daughter To Marry One? Politics and Race in Guess Who's Coming To Dinner (Thomas E. Wartenberg).
23. Stella at the Movies: Critical Spectatorship and Melodrama in Stella Dallas (Angela Curren).
Part VII: What Can We Learn From Films?.
Introduction.
Study Questions.
24. Knowledge as Transgression: It Happened One Night (Stanley Cavell).
25. Realist Horror (Cynthia A. Freeland).
26. Philosophy Screened: Viewing The Matrix (Thomas E. Wartenberg).
27. Virtue and Happiness in Groundhog Day (Joseph Kupfer).
Suggestions for Further Reading.
Index.
"Congratulations to Wartenberg and Curran for their terrific anthology. Uniting key works in film theory, criticism, and philosophy, this much-needed text has excellent sections on core topics."
Deborah Knight, Queen's University at Kingston
"The Philosophy of Film presents a judicious selection of influential writings on the philosophy of film from across the spectrum of current opinion, though weighted toward the increasingly dominant cognitivist paradigm of film experience. The introductory and pedagogic material provided by the editors is uniformly helpful."
Jerrold Levinson, University of Maryland, and Past President, American Society for Aesthetics

"Bringing together important writings by prominent philosophers and film theorists, this volume of readings with useful editorial commentary will prove a valuable resource for students of the philosophy of film." Berys Gaut, University of St Andrews


Provides thorough selection of readings drawn from philosophy, film studies, and film criticism


Multiple points of view highlighted in discussion of film theory, narration, authorship, film and emotion, and the social values of cinema


Presents thought-provoking reading questions as well as clear and helpful introductions for each section


More information and further resources available from the accompanying website at: http://www.mtholyoke.edu/omc/phil-film/index.html