The Philosophy of Interpretation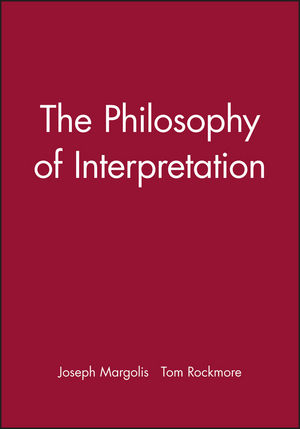 The Philosophy of Interpretation
ISBN: 978-0-631-22047-3
Jun 2001, Wiley-Blackwell
244 pages
Description
This is a lively, freshly invited collection of papers by a number of well-known philosophers and other specialists who have focused very pointedly on certain central conceptual puzzles posed by the general practice of interpretation in the arts, literature, history, and the natural and human sciences. The collection gives very nearly the impression of a sustained debate.
1. Introduction: The Philosophy of Interpretation: Joseph Margolis and Tom Rockmore.
2.Interpretation and Justification: David Novitz.
3.Conventions and Rules in Literature: Stein Haugom Olsen.
4.Relativism and the Interpretation of Texts: Jorg J. E. Gracia.
5.On Changing the Subject: Paul Thom.
6.Interpretation and Intention: The Debate between Hypothetical and Actual Intentionalism: Noël Carroll.
7.Objects of Interpretation: Peter Lamarque.
8.Interpretation and its 'Metaphysical' Entanglements: Michael Krausz.
9.Representation as the Representation of Experience: F. R. Ankersmit.
10.Historical Knowledge as Perspectival and Rational: Remarks on the Annales School's Idea of History: Cecilia Tohaneanu.
11.Interpretation as Historical, Constructivism, and History: Tom Rockmore.
12.Relativism and Interpretive Objectivity: Joseph Margolis
Includes papers by a number of those currently most active in the philosophy of interpretation.
Links specialized topics in one or another field of interpretation with the larger theoretical questions about the nature of interpretation. Tries to bring together a theory of the nature of interpretable things and the nature of what makes their interpretation objective. Features a number of the most baffling questions regarding valid, even incompatible, alternative interpretations.