The Philosophy of Literature: Contemporary and Classic Readings - An Anthology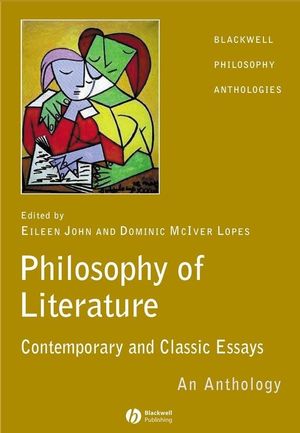 The Philosophy of Literature: Contemporary and Classic Readings - An Anthology
ISBN: 978-1-405-11209-3
Feb 2004, Wiley-Blackwell
384 pages
Description
Essential readings in the philosophy of literature are brought together for the first time in this anthology.

Contains forty-five substantial and carefully chosen essays and extracts
Provides a balanced and coherent overview of developments in the field during the past thirty years, including influential work on fiction, interpretation, metaphor, literary value, and the definition and ontology of literature
Includes an additional historical section featuring generous selections of the writings of early pioneers such as Plato, Aristotle, Nietzsche, and Hume
Serves as an ideal introduction to the philosophy of literature or the philosophy of art, as well as a handy compilation of contributions to the field by its leading figures
Acknowledgments.
Preface.
Part I: Classic Sources:.
Introduction.
1. Republic: Plato.
2. Poetics: Aristotle.
3. Of Tragedy: David Hume.
4. The Birth of Tragedy: Friedrich Nietzsche.
5. Creative Writers and Day-Dreaming: Sigmund Freud.
Part II: Definition of Literature:.
Introduction.
6. Spazio: Arrigo Lora-Totino.
7. What Isn't Literature?: E. D. Hirsch, Jr.
8. The Concept of Literature: Monroe Beardsley.
9. Literary Practice: Peter Lamarque and Stein Haugom Olsen.
10. What Is Literature?: Robert Stecker.
Part III: Ontology of Literature:.
Introduction.
11. Pierre Menard, Author of the Quixote: Jorge Luis Borges.
12. Literary Works as Types: Richard Wollheim.
13. Literature: J. O. Urmson.
14. Can the Work Survive the World?: Nelson Goodman and Catherine Elgin.
15. Work and Text: Gregory Currie.
Part IV: Fiction:.
Introduction.
16. Doonesbury: Garry Trudeau.
17. The Logical Status of Fictional Discourse: John Searle.
18. Truth in Fiction: David Lewis.
19. What Is Fiction?: Gregory Currie.
20. Fiction and Nonfiction: Kendall Walton.
21. Fictional Characters as Abstract Artifacts: Amie Thomasson.
22. Logic and Criticism: Peter Lamarque.
Part V: Emotion:.
Introduction.
23. Applicant: Harold Pinter.
24. How Can We Be Moved by the Fate of Anna Karenina?: Colin Radford.
25. Fearing Fictionally: Kendall Walton.
26. The Pleasures of Tragedy: Susan Feagin.
27. Tragedy and the Community of Sentiment: Flint Schier.
Part VI: Metaphor:.
Introduction.
28. Essay on What I Think about Most: Anne Carson.
29. Metaphor: Max Black.
30. What Metaphors Mean: Donald Davidson.
31. Metaphor and Feeling: Ted Cohen.
32. Metaphor and Prop Oriented Make-Believe: Kendall Walton.
Part VII: Interpretation:.
Introduction.
33. Who Is Responsible in Ethical Criticism, And for What?: Wayne C. Booth.
34. Criticism as Retrieval: Richard Wollheim.
35. The Postulated Author: Critical Monism as a Regulative Ideal: Alexander Nehamas.
36. Art Interpretation: Robert Stecker.
37. Art, Intention, and Conversation: Noël Carroll.
38. Intention and Interpretation: Jerrold Levinson.
39. Style and Personality in the Literary Work: Jenefer Robinson.
Part VIII: Literary Values:.
Introduction.
40. Xingu: Edith Wharton.
41. On the Cognitive Triviality of Art: Jerome Stolnitz.
42. Literature and Knowledge: Catherine Wilson.
43. Finely Aware and Richly Responsible: Martha Nussbaum.
44. Literature, Truth, and Philosophy: Peter Lamarque and Stein Haugom Olsen.
45. The Ethical Criticism of Art: Berys Gaut.
Index
"This collection provides an ideal introduction to the issues that draw analytic philosophers to literature. It brings together an extraordinary array of the most vital, influential, and sophisticated essays published by philosophers of literature in the past three decades."
Stephen Davies, University of Auckland
<!--end-->
"These essays, taken together, constitute a serious and probing exploration of several of the most fundamental philosophical puzzles about literature. They are also accessible, engaging, and frequently a lot of fun. A superb collection!" Kendall Walton, University of Michigan
Collects together for the first time the essential readings in the philosophy of literature
Contains 45 substantial and carefully chosen essays and extracts
Provides a balanced and coherent overview of developments in the field during the past 30 years, including influential work on fiction, interpretation, metaphor, literary value, and the definition and ontology of literature
Includes an additional historical section featuring generous selections of the writings of early pioneers such as Plato, Aristotle, Nietzsche, and Hume
Serves as an ideal introduction to the philosophy of literature or the philosophy of art, as well as a handy compilation of contributions to the field by its leading figures