The Philosophy of Literature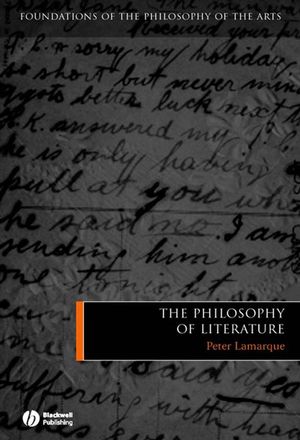 The Philosophy of Literature
ISBN: 978-1-405-12197-2
Aug 2008, Wiley-Blackwell
342 pages
Description
By exploring central issues in the philosophy of literature, illustrated by a wide range of novels, poems, and plays, Philosophy of Literature gets to the heart of why literature matters to us and sheds new light on the nature and interpretation of literary works.
Provides a comprehensive study, along with original insights, into the philosophy of literature
Develops a unique point of view - from one of the field's leading exponents
Offers examples of key issues using excerpts from well-known novels, poems, and plays from different historical periods
Table of Contents.
Preface.
Acknowledgments.
1 Art.
2 Literature.
3 Authors.
4 Practice.
5 Fiction.
6 Truth.
7 Value.
Bibliography of works cited.
"The image Lamarque offers is an extremely attractive one, and it reminds us of why this is such an exciting and important field.
The Philosophy of Literature
is a smart, original, and erudite book, and it deserves to be widely read. Philosophers of literature will not be able to live without it." (John Gibson,
Journal of Aesthetics and Art Criticism
, vol 68, 2010)
"Peter Lamarque's splendid and informative book, The Philosophy of Literature ... is brimful with insights into the nature of literature, and into the debates between philosophers interested in literature, and I cannot imagine anyone failing to learn from it." (Simon Blackburn, British Journal of Aesthetics, Vol. 50, 2010)
"[Lamarque] is always admirably clear and the rich use of literary sources in this work to illustrate the philosophical arguments also makes the book generally compelling reading. From this viewpoint, the work deserves a wide readership and may be highly recommended not just to others working at the cutting edge in this field, but also to students at all levels of university study and research and to the general educated reader." (David Carr, Analysis Reviews Vol 69, Number 3, July 2009)
"In its entirety, Lamarque's book is a comprehensive study which is admirably sensitive to literary art. His philosophical analyses and the clarifying interplay between the philosophy of literature and literary criticism have significance not only to philosophers but literary critics, too. Beyond this, Lamarque has the gift of treating complicated and subtle philosophical theories in a lucid and intelligible way… [B]esides introducing the central issues in the philosophy of literature the book also gives an extensive historical survey on the topics, which will make it very useful for teaching. Philosophy of Literature is a work which advances strong theses and simultaneously pays respect to opposing views. Whether or not the reader agrees with the main conclusions of the work, Lamarque's lucid arguments are nourishment for the brain." (Philosophy & Literature, vol 33, 2009)
"Lamarque presents a thoughtfully measured approach to a potentially overwhelming topic." (CHOICE, March 2009)
"Appropriately for a book that presents itself as an introduction to the field, Lamarque gives a historical overview of various sub-topics in the philosophy of literature as well as supplementary readings for each chapter." (Notre Dame Philosophical Reviews, March 2009)
"An excellent introduction to the philosophy of literature or as an additional text for aesthetics or literature modules." (Times Higher Education Supplement)
Provides a comprehensive study, along with original insights, into the philosophy of literature
Explores all the central issues relating to the nature and interpretation of literature
Develops a unique point of view - from one of the field's leading exponents
Offers examples of key issues using excerpts from well-known novels, poems, and plays from different historical periods