The Philosophy of Motion Pictures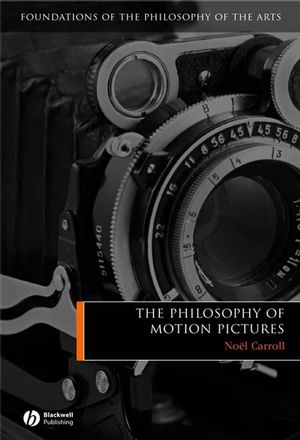 The Philosophy of Motion Pictures
ISBN: 978-1-405-12024-1 December 2007 Wiley-Blackwell 256 Pages
Description
Philosophy of Motion Pictures is a first-of-its-kind, bottom-up introduction to this bourgeoning field of study. Topics include film as art, medium specificity, defining motion pictures, representation, editing, narrative, emotion and evaluation.



Clearly written and supported with a wealth of examples

Explores characterizations of key elements of motion pictures –the shot, the sequence, the erotetic narrative, and its modes of affective address
Acknowledgments.
Introduction: From Film Theory to the Philosophy of the Moving Image.
1. Film as Art.
2. Medium Specificity.
3. What Is Cinema?.
4. The Moving Picture – the Shot.
5. Moving Images – Cinematic Sequencing and Narration.
6. Affect and the Moving Image.
7. Evaluation.
Select Bibliography.
Index
"As the very first introduction to philosophy of film…
The Philosophy of Motion Pictures
is ideal for generating new and wider philosophical interest in film as a technologically evolving art form.  …[The book] does beautifully what any good introduction should: It leaves us with a sense of deeper understanding but also an eagerness to continue the conversation." (Katherine Thomson-Jones,
Journal of Aesthetics and Art Criticism
(vol. 66, issue 4))
"Carroll is arguably the foremost philosopher of film writing today. With the assistance of a handful of other philosophers, he has created a vital and lively philosophical specialty out of a field that was mostly moribund prior to the 1980s. The Philosophy of Motion Pictures deserves study by anyone seriously interested in the philosophy of film. The clarity with which it is written and the broad scope of its concerns make it a book that deserves serious attention and discussion." (British Journal of Aesthetics)
"One of the more insightful scholarly approaches to cinema in recent years. The book explores film…with several interesting and intellectually stimulating and satisfying chapters." (RogueCinema.com)
"Scholarly, detailed and thoroughly-argued … .It is a fine book. Persuasive and informative and will undoubtedly become a key text in cinematic studies." (Metapsychology)
"Carroll provides a useful compendium of the central problems and ruling concepts in contemporary film aesthetics. Recommended." (Choice)


First-of-its-kind book


Clearly written and supported with a wealth of examples

Topics include film as art, medium specificity, defining motion pictures, the nature of representation, editing, narrative, emotion and evaluation

Explores characterizations of key elements of motion pictures –the shot, the sequence, the erotetic narrative, and its modes of affective address