The Philosophy of Philosophy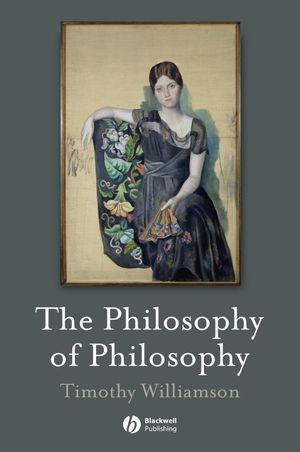 The Philosophy of Philosophy
ISBN: 978-0-470-69591-3 April 2008 Wiley-Blackwell 352 Pages
Description
The second volume in the
Blackwell Brown Lectures in Philosophy
, this volume offers an original and provocative take on the nature and methodology of philosophy.
Based on public lectures at Brown University, given by the pre-eminent philosopher, Timothy Williamson
Rejects the ideology of the 'linguistic turn', the most distinctive trend of 20th century philosophy
Explains the method of philosophy as a development from non-philosophical ways of thinking
Suggests new ways of understanding what contemporary and past philosophers are doing
Table of contents
Preface.
Acknowledgments.
Introduction.
1. The Linguistic Turn and the Conceptual Turn.
2. Taking Philosophical Questions at Face Value.
3. Metaphysical Conceptions of Analyticity.
4. Epistemological Conceptions of Analyticity.
5. Knowledge of Metaphysical Modality.
6. Thought Experiments.
7. Evidence in Philosophy.
8. Knowledge Maximization.
Afterword. Must Do Better.
Appendix 1. Modal Logic within Counterfactual Logic.
Appendix 2. Counterfactual Donkeys.
Bibliography.
Index
Reviews
"Worthwhile reading … for anyone reckoning him or herself to be part of the analytic tradition. Superb in coming to grips with one's methodological self-understanding." Metapsychology<!--end-->
Features
Based on public lectures at Brown University, given by the pre-eminent philosopher, Timothy Williamson
Proposes an original and controversial theory on the nature and methodology of philosophy
Rejects the ideology of the 'linguistic turn', the most distinctive trend of 20th century philosophy
Explains the method of philosophy as a development from non-philosophical ways of thinking
Suggests new ways of understanding what contemporary and past philosophers are doing