The Philosophy of Religion: An Historical Introduction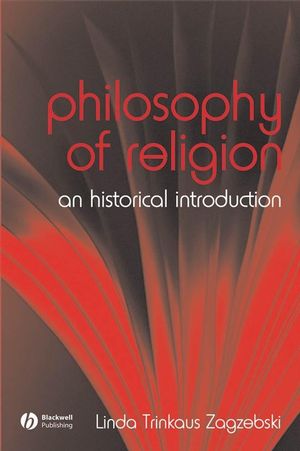 The Philosophy of Religion: An Historical Introduction
ISBN: 978-1-405-11873-6 March 2007 Wiley-Blackwell 264 Pages
Description
An accessible and engaging introduction to the philosophy of religion.



Written with verve and clarity by a leading philosopher and contributor to the field

Places key issues and debates in the philosophy of religion in their historical contexts, highlighting the conditions that led to the development of the field

Addresses the core topics, among them the the existence of God, the problem of evil, death and the afterlife, and the problem of religious diversity

Rich with argument, yet never obtrusive

Forms part of the Fundamentals of Philosophy series, in which renowned scholars explore the fundamental issues and core problems in the major sub-disciplines of philosophy
Preface.
1. The Philosophical Approach to Religion.
2. The Classical Arguments for the Existence of God.
3. Pragmatic and Fideist Approaches to Religious Beliefs.
4. Who or What Is God?.
5. Fate, Freedom, and Foreknowledge.
6. Religion and Morality.
7. The Problem of Evil.
8. Death and the Afterlife.
9. The Problem of Religious Diversity.
10. Faith, Reason, and the Ethics of Belief.
Bibliography.
Index
"Linda Zagzebski has produced a very impressive, historically-informed introduction to the philosophy of religion. What is achieved in this book is actually something quite rare: a text which, though perfectly accessible to the beginning student, does not oversimplify the complex issues within philosophy of religion, and which, while genuinely introductory, at the same time succeeds in making distinctive contributions to the subject. Also noteworthy here is the exemplary manner in which Zagzebski, though firmly positioned within the analytic tradition, includes sympathetic, non-dismissive discussions of thinkers outside of the analytic mainstream (thinkers such as Kierkegaard, Wittgenstein and Freud). This serves to provide the book with an expansive feel; it gives the beginning student a sense of the wide range of philosophical approaches to religion; and it widens the sometimes narrow focus of contemporary philosophy of religion." (
Ars Disputandi,
January 2011)
"Zagzebski's
Philosophy of Religion
is a lucid, elegantly written, outstanding introduction to the field that includes classical arguments as well as some of the latest, cutting-edge work being done today."
Charles Taliaferro, St. Olaf College
"One of Zagzebski's book's most attractive features is her location of standard arguments and positions in the philosophy of religion in their historical context. I highly recommend this accessible and original introductory text."
William Wainwright, University of Wisconsin–Milwaukee
"Clearly written… worthwhile as a textbook and as an original contribution to [the] philosophy of religion. The excellent 'further readings'…make this a valuable reference tool."
Choice
"Zagzebski has done some fine work…[She] hopes to broaden some of the standard topics…These are refreshing and very commendable aims for an introductory text."
Metapsychology
"A readable textbook that … covers all the conventional ground. I found the way in which the arguments for the existence of God were set out extremely helpful … there is much to commend this book."
The Scientific and Medical Network Review
"An excellent contribution to the field for its historical approach … and its ability to contextualize current discussions in light of history and personal faith."
Religious Studies Review



An accessible overview of a vibrant field, which invites readers to think through the issues in the philosophy of religion themselves

Written with verve and clarity by a leading philosopher and contributor to the field

Places key issues and debates in the philosophy of religion in their historical contexts, highlighting the conditions that led to the development of the field

Addresses the core topics, among them the the existence of God, the problem of evil, death and the afterlife, and the problem of religious diversity

Rich with argument, yet never obtrusive

Forms part of the Fundamentals of Philosophy series, in which renowned scholars explore the fundamental issues and core problems in the major sub-disciplines of philosophy