The Phoenix Effect: 9 Revitalizing Strategies No Business Can Do Without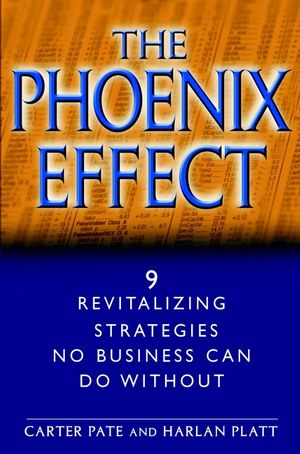 The Phoenix Effect: 9 Revitalizing Strategies No Business Can Do Without
ISBN: 978-0-471-21467-0 July 2002 244 Pages
Description
International turn-around gurus describe how to rescue a company from the brink of disaster
Why, even in the best of economic times, do so many apparently healthy companies fail? The surprising answer offered by the authors of this breakthrough book is "denial," or more specifically, the inability of top management to acknowledge that they've been backing a losing strategy and to take the necessary, often traumatizing, steps required to set their companies on the right course. Using cogent case studies and lessons learned from working with Fortune 500 executives who have survived tough turnarounds, Pate and Platt vividly describe what happens when good strategies go bad. Drawing upon their experiences at top firms, they develop proven real-world turnaround strategies, tools, and techniques and show readers how to put them to work in their companies.
ACKNOWLEDGMENTS.

INTRODUCTION.

CHAPTER 1. Get to the Point of Pain.

CHAPTER 2. Determine the Scope.

CHAPTER 3. Orient the Business.

CHAPTER 4. Manage Scale.

CHAPTER 5. Handle Debt.

CHAPTER 6. Get the Most from Assets.

CHAPTER 7. Get the Most from Employees.

CHAPTER 8. Get the Most from Products.

CHAPTER 9. Produce the Product.

CHAPTER 10. Change the Process.

EPILOGUE.

SOURCES AND SUGGESTED READING.

INDEX.
"...it offers good wholesome advice..." (Financial Times, 13 February 2002)

With so many businesses flopping in the current economy, Cater Pate, a veteran financial adviser and PricewaterhouseCoopers turnaroud expert, and writer Harlan Platt offer counself to those now teetering on the edge of disaster. THE PHOENIX EFFECT: 9 Revitalizing Strategies No Businesss Can Do Without walks executives, strategists, and entrepreneurs through a thorough evaluation of their company. Whether the business needs an overhaul or tuneup, the authors detail how to determine its new direction, strengthen its corporate identity, negotiate restructuing and mergers and get the most from assets, employees and products. The book is full of examples of real-life success and failure at companies like Marriott, Laura Ashley, Netscape, and CDNow. (Publishers Weekly, March 4, 2002)