The Poetics, Aesthetics, and Philosophy of Narrative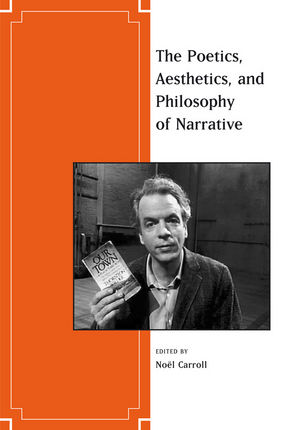 The Poetics, Aesthetics, and Philosophy of Narrative
ISBN: 978-1-405-19457-0
Feb 2009, Wiley-Blackwell
300 pages
Description
This anthology is the first study of the philosophy of narrative in the analytic tradition.
Brings together eleven articles exploring narrative, metaphysics and epistemology, character, and emotion
Examines various narrative art forms, including painting and comics
The first of a new series of books published in association with the Journal of Aesthetics and Art Criticism
Noël Carroll, Introduction.
Ismay Barwell, "Understanding Narratives and Narrative Understanding".
Gregory Currie, "Narrative and the Psychology of Character".
Nicholas Diehl, "Imagining De Re and the Symmetry Thesis of Narration".
Daniel Dohrn, "Counterfactual Narrative Explanation".
Alessandro Giovannelli, "In Sympathy with Narrative Characters".
Peter Goldie, "Narrative Thinking, Emotion, and Planning".
Paisley Livingston, "Narrativity and Knowledge".
Bence Nanay, "Narrative Pictures".
Ira Newman, "Virtual People: Fictional Characters through the Frames of Reality".
Henry Pratt, "Narrative in Comics".
Aaron Smuts, "Story Identity and Story Type: Problems for the Transposability of the Story Thesis"
"The Aesthetics, Poetics, and Philosophy of Narrative, an anthology originally published in 2009 as a themed issue of Journal of Aesthetics and Art Criticism , contains 11 articles written by well-known, analytically-oriented philosophers interested in the concept of narrative."  (Oxford Journals ClippingsBottom of Form, 3 July 2012)
"The Aesthetics, Poetics, and Philosophy of Narrative, an anthology originally published in 2009 as a themed issue of Journal of Aesthetics and Art Criticism, contains 11 arti¬cles written by well-known, analytically-oriented philosophers interested in the concept of narrative." (British Journal of Aesthetics, 4 January 2012)



First anthology on the philosophy of narrative in the analytic tradition