The Political Art of Greek Tragedy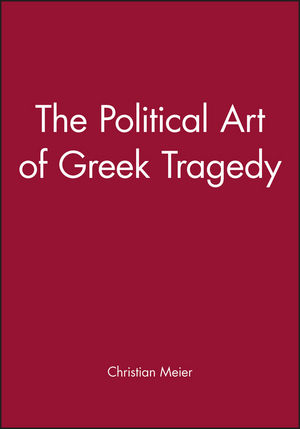 The Political Art of Greek Tragedy
ISBN: 978-0-745-60692-7
Aug 1993, Polity
238 pages
Description
In this outstanding new book, Christian Meier examines the close relationship between drama and politics at the beginning of the great age of Greek tragedy, focusing on the works of Aeschylus.

The author examines the political, social and even psychological problems of the inhabitants of fifth-century Athens, during a time of rapid change. Through the role of festivals and the role of the festival of Dionysus in particular, Meier moves on to the interpretation of Aeschylus' plays. He shows how the political statements of the mythical characters made sense of and even influenced the politics of the day. Finally, he discusses the work of Sophocles in counterpoint to the plays of Aeschylus.

This book will be of interest to students and academics of history, particularly the history of the ancient world, as well as those studying literature and drama.
1. Why the citizens of Attica needed tragedy.
2. Athens.
3. The significance of festivals in Athens.
4. Tragedy and the festival of Dionysus.
5. Aeschylus.
6. Sophocles.
7. The political foundations of Classicism
'This book in particular has to be read by everyone with an interest in fifth-century Athens, let alone those involved in Greek drama.'
Greece and Rome
'This is a powerful thesis.... ... It is extremely welcome to have a German historian of Meier's calibre not only re-emphasising the crucial need to recognise historical change in our study of tragedy, but also demonstrating the importance of tragedy itself to any fully integrated historical analysis of fifth-century Athens.' Journal of Hellenic Studies
* Christian Meier is the best-known classical scholar in Germany and one of the world leaders in ancient Greek studies.
* The book includes a full interpretation of Aeschylus's plays: The Oresteia, Prometheus and The Persians .