The Political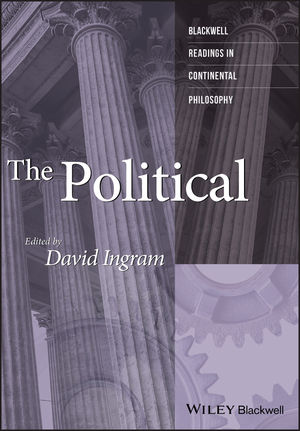 The Political
ISBN: 978-0-631-21548-6 January 2002 Wiley-Blackwell 320 Pages
Download Product Flyer
Download Product Flyer
Download Product Flyer is to download PDF in new tab. This is a dummy description. Download Product Flyer is to download PDF in new tab. This is a dummy description. Download Product Flyer is to download PDF in new tab. This is a dummy description. Download Product Flyer is to download PDF in new tab. This is a dummy description.
Description
The Political is a collection of readings by the most important political philosophers representing the six major schools of Continental philosophy: Phenomenology, Existentialism, Critical Theory, Poststructuralism, Postmodernism, and Postcolonialism.
Table of contents
List of Contributors.
Preface.
Introduction (David Ingram).
PART I. PHENOMENOLOGY: POLITICAL ACTION AND THE DIALECTIC OF POWER AND VIOLENCE.
1. Selections from The Human Condition.
On Violence (Hannah Arendt).
2. Power, Violence, and Legitimacy: A Reading of Hannah Arendt in an Age of Police Brutality and Humanitarian Intervention (Iris Marion Young).
PART II. EXISTENTIALISM: REVOLUTIONARY PRAXIS AND THE DIALECTIC OF GROUPS AND INSTITUTIONS.
3. Selections from Critique of Dialectical Reason (Jean-Paul Sartre).
4. Sartre's Critique (William L. McBride).
PART III. CRITICAL THEORY: LIBERAL DEMOCRACY AND THE DIALECTIC OF INDIVIDUAL AND COMMUNITY.
5. Three Normative Models of Democracy.
On the Internal Relation Between the Rule of Law and Democracy (Jürgen Habermas).
6. Can Procedural Democracy Be Radical (Simone Chambers).
PART IV. POSTSTRUCTURALISM: MODERN POLITICAL VIRTUE AND THE DIALECTIC OF GOVERNANCE AND RESISTANCE.
7. What is Critique (Michel Foucault).
8. What is Critique? An Essay on Foucault's Virtue (Judith Butler).
PART V. POSTMODERNISM: TOTALITARIANISM AND THE DIALECTIC OF IDENTITY AND DIFFERENCE.
9. Memorandum on Legitimation (Jean-François Lyotard).
10. Democracy in the Era of Identity Politics: Lyotard on Postmodern Legitimation (David Ingram).
PART VI. POSTCOLONIALISM: PLANETARY POLITICS AND THE DIALECTIC OF LIFE AND LIBERATION.
11. Six Theses Towards a Critique of Political Reason: The Citizen as Political Agent (Enrique Dussel).
12. Politics in an Age of Planetarization: Enrique Dussel's Critique of Political Reason (Eduardo Mendieta).
Index.
Reviews
"A high-powered introduction to key issues in current political philosophy. With original essays, distinguished scholars respond to seminal texts by major figures in the continental tradition. Effective, informative, and timely."
Thomas R. Flynn
, Emory University
"Selected by a leading specialist in political philosophy, the essays in this collection represent an ingenious way to approach recent debates in continental philosophy. The juxtaposition of essays by major political thinkers with interpretive essays that explain the context reflects thoughtful and clever matchmaking. The historical movements of phenomenology, existentialism, and critical theory are complemented by current discussions of poststructuralism, postmodernism, and postcolonialism. This anthology will be a valuable guide to the general reader who is interested in these rubrics as well as a useful text at all levels of the curriculum." David Hoy, University of California, Santa Cruz
Features


Emphasizes the importance of Continental philosophy in political theory.


Includes classic selections from such notable thinkers as Hannah Arendt, Jean-Paul Sartre, Jurgen Habermas, Michel Foucault, Jean-Francois Lyotard, and Enrique Dussel.


Provides commentary by prominent contemporary theorists such as Iris Marion.