The Politics of Health Policy: The U.S. Reforms, 1980 - 1994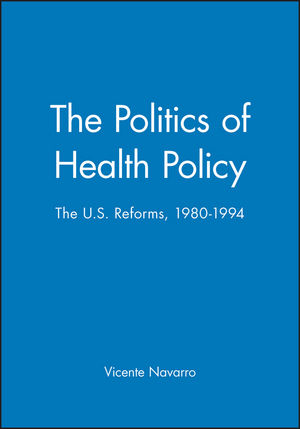 The Politics of Health Policy: The U.S. Reforms, 1980 - 1994
ISBN: 978-1-557-86318-8
Jan 1995, Wiley-Blackwell
248 pages
Description
This book analyzes the federal health policies followed by Reagan, Bush, and Clinton and by the Democratic-controlled Congress. The book shows the connection between the crisis of health care and the correlation of class forces in America.
Addresses one of the key areas of contemporary public policy in the US, challenging complacent assumptions and demonstrating the enduring popularity of the welfare state
The author was part of the Clinton team responsible for health reform
Introduction: The Politics of the US Welfare State.
1. The 1980 and 1984 US Elections and the New Deal: An Alternative Interpretation.
2. Class Politics and Social Movements in the US.
3. The 1988 US Elections - The Primaries: The Rediscovery of the National Health Program by the Democratic Party, A Chronicle of the Jesse Jackson Campaign.
4. The 1988 Presidential Election.
5. The Welfare State and Its Redistributive Effects: Part of the Problem or Part of the Solution?.
6. Production and the Welfare State: The Political Context of Reforms.
7. Why Some Countries have National Health Insurance, Others Have National Health Services, and the US Has Neither.
8. The 1992 Presidential Election and the Clinton Adminstration Policies: The Politics of Health Care Reform.
"
The Politics of Health Policy
constitutes an important contribution to the debate of a crucial issue. However, the reach of Professor Navarro's book goes well beyond health policy: it is also a powerful and well-documented rebuttal of the many obfuscations which mask the reality of politics in the United States. It offers a sustained and effective challenge to conventional thinking and deserves very close attention."
Ralph Miliband
"This book should become a very interesting reference in the growing literature of the welfare state. Navarro's way of analyzing health and social policy issues, while well accepted in Europe, is not frequently heard in the US. His is a strong voice of a committed social reformer speaking with the force of an empirical scientist." Professor Goran Therborn, Gothenburg University
Addresses one of the key areas of contemporary public policy in the US, challenging complacent assumptions and demonstrating the enduring popularity of the welfare state
The author was part of the Clinton team responsible for health reform