The Politics of Possession: Property, Authority, and Access to Natural Resources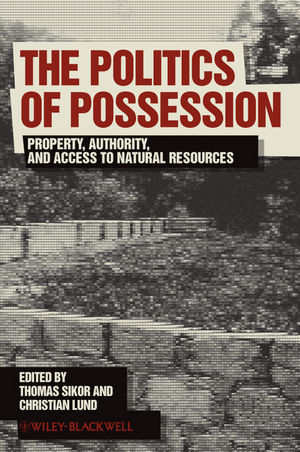 The Politics of Possession: Property, Authority, and Access to Natural Resources
ISBN: 978-1-405-19656-7 January 2010 Wiley-Blackwell 224 Pages
Description
The Politics of Possession investigates how struggles over access to resources and political power constitute property and authority recursively. Such dynamics are integral to state formation in societies characterized by normative and legal pluralism.
Includes some of the latest theoretical work on the dynamics of access and property and how they are joined to questions of power and authority
Explores how access to resources is often contested and rife with conflict, particularly in post-colonial and post-socialist countries
Offers a thought-provoking approach to the study of everyday processes of state formation
Shows how the process of seeking authorization for property claims works to legitimize the authorizers, and the efforts undertaken by politico-legal institutions to gain legitimacy underpin and undermine various claims of access and property
Contributors explore from a wide empirical compass of original research spanning Latin America, Africa, South-East Asia, and Eastern Europe
Notes on Contributors.
1. Access and Property: A Question of Power and Authority (Thomas Sikor, University of East Anglia and Christian Lund, Roskilde University, Denmark).
2. Property, Authority and Citizenship: Land Claims, Politics and the Dynamics of Social Division in West Africa (Sara Berry, Johns Hopkins University).
3. Rubber Erasures, Rubber Producing Rights: Making Racialized Territories in West Kalimantan, Indonesia (Nancy Lee Peluso, University of California, Berkeley).
4. Ruling by Record: The Meaning of Rights, Rules and Registration in an Andean Comunidad (Monique Nuijten, Wageningen University and David Lorenzo, Roskilde University, Denmark).
5. Authority over Forests: Empowerment and Subordination in Senegal's Democratic Decentralization (Jesse C. Ribot, University of Illinois).
6. Recategorizing 'Public' and 'Private' Property in Ghana (Christian Lund, Roskilde University, Denmark).
7. Land Access and Titling in Nicaragua (Rikke B. Broegaard, Danish Institute for International Studies).
8. Negotiating Post-Socialist Property and State: Struggles over Forests in Albania and Romania (Thomas Sikor, University of East Anglia; Johannes Stahl, University of California, Berkeley; and Stefan Dorondel, Humboldt University Berlin).
9. Property and Authority in a Migrant Society: Balinese Irrigators in Sulawesi, Indonesia (Dik Roth, Wageningen University).
Index.