The Politics of Risk Society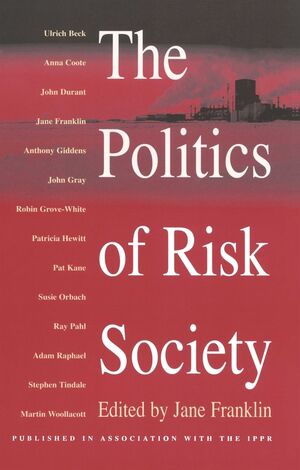 The Politics of Risk Society
ISBN: 978-0-745-61925-5
Dec 1997, Polity
152 pages
Description
We live in a runaway world. New patterns of risk and uncertainty threaten the stability of our traditional institutions. To make sense of these profound changes in our lives, and invent new politics for the twenty-first century, we must understand the dynamic forces which are transforming our society.

The Politics of Risk Society opens a dialog between Ulrich Beck's sociology of Risk Society and key thinkers and opinion leaders from the world of politics and policy making. It explores the way we perceive risk and integrate change into our lives - insisting that these are essential forces driving policy development today.

A new politics must engage actively with people's lived experience. Contributions from Ulrich Beck, Anthony Giddens, Susie Orbach, John Gray, Ray Pahl, Martin Woollacott, Anna Coote, Patricia Hewitt and others explore the daily experience of risk - from intimate relationships to global warming - and offer their analysis and insight into how we understand this changing world.

This book captures part of the spirit of the age and will be of absorbing interest to students of sociology, politics and social policy.
Contributors.
Introduction: Jane Franklin.
1. Politics of Risk Society: Ulrich Beck.
2. Risk Society: the Context of British Politics: Anthony Giddens.
3. Lessons from Lloyd's: the Limits of Insurance: Adam Raphael.
4. Nature Bites Back: John Gray.
5. Risky Business, Safety: Martin Woollacott.
6. Risk Society, Politics and BSE: Robin Grove-White.
7. Procrastination, Precaution and the Global Gamble: Stephen Tindale.
8. Once the Men in White Coats Held the Promise of a Better Future...: John Durant.
9. There's Method in the Magic: Pat Kane.
10. Technology and Democracy: Patricia Hewitt.
11. People in Distress: Susie Orbach.
12. Friendship: the Social Glue of Contemporary Society?: Ray Pahl.
13. The Politics of Prevention: Martin Woollacott.
14. Risk and Public Policy: Towards a High Trust Democracy: Anna Coote.
Index.
"The book broadly reflects the approach of the influential theory of "Risk Society" associated with Ulrich Beck and Anthony Giddens. Both of these prominent sociologists have contributed to this volume, and their essays each provide a clear synthesis of their arguments. For those new to this discussion, this collection provides an excellent introduction to the notion of 'Risk Society.'" Times Literary Supplement
* Discusses a topic of great interest in social science at the moment - the idea of 'risk society'.
* Is directly relevant to current debates about the BSE crisis and aspects of technological innovations and risk.
* Contains contributions from some of the leading figures in the debate, notably Ulrich Beck himself.