The Politics of Subversion: A Manifesto for the Twenty-First Century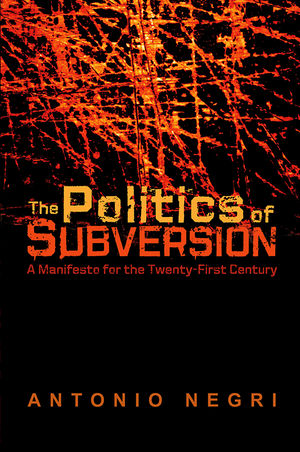 The Politics of Subversion: A Manifesto for the Twenty-First Century
ISBN: 978-0-745-63513-2
Jul 2005, Polity
240 pages
Description
In this important book, Antonio Negri develops the key ideas that were to form the basis for the highly influential analyses of new forms of power and social struggle presented in Empire and Multitude. He shows how new technology and the break-up of the traditional factory have created new social subjects whose value is no longer tied to their skill. The spread of communication networks and the globalization of production mean that capitalism has become totalized – but not, Negri stresses, monolithic. On the contrary, the possibilities for subversion have correspondingly increased.

Going beyond classical Marxism, he shows how old solidarities must be reformulated and new alliances created. The struggles which marked the political end of the twentieth century are now being repeated in a new historical conjuncture, giving rise to new forms of transnational solidarity that can challenge dominant global powers.

This new paperback edition, which includes a new Preface by the author, is an excellent introduction to the work of one of the most influential political thinkers writing today and will be essential reading for anyone who wishes to understand the new forms of conflict and struggle that will shape the world in the twenty-first century.
Acknowledgements.
Preface to the new edition.
Introduction by Yann Moulier.
PART 1.
Paris 1986, 26 November – 10 December.
The end of the century.
From the mass worker to the socialized worker – and beyond.
From the factory to the ecological machine.
The world economy of the socialized worker.
Expropriation in mature capitalism.
The antagonistic production of subjectivity.
Autonomy, from clandestinity to the party.
PART 2.
Letter to Felix Guattari on 'social practice'.
Journeys through civil society (In memory of Peter Bruckner).
State and class in the phase of real subsumption.
Some notes concerning the concept of the 'nuclear state'.
Postmodern.
Towards new values.
Appendix.
Index.


This is a new paperback edition of an important work by Negri, with a new Preface by the author.


Negri is one of the most influential social and political thinkers writing today. His books Empire and Multitude are bestsellers.


In this book Negri develops the key ideas that were to become the basis for his analysis of the new global political order.


His new Preface outlines the key ideas of his work and describes the connections between this book, Empire and Multitude.