The Pope's Maestro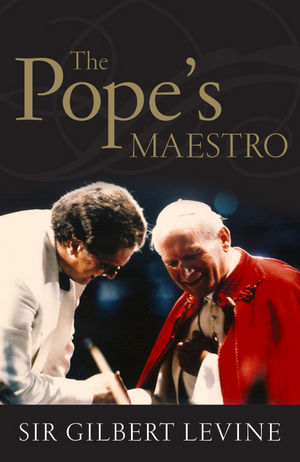 The Pope's Maestro
ISBN: 978-0-470-60835-7
Oct 2010, Jossey-Bass
432 pages
Product not available for purchase
Description
The story of the friendship between a Jewish-American conductor and Pope John Paul II
This book offers the inspirational story of an unlikely friendship and the two men who collaborated in an extraordinary way to begin to help heal centuries-old wounds. For two decades Sir Gilbert Levine and Pope John Paul II collaborated on symbolic acts of reconciliation: a series of internationally broadcast concerts designed to bring together people from all religious backgrounds under the auspices of the Vatican. These concerts broke new ground and demonstrated the Vatican's desire for rapprochement and even atonement in its relationships with Jews around the world. And it resulted in Sir Gilbert recovering his own Jewish faith in a deeper and more meaningful way.
Details the extraordinary collaboration between a world-renowned musical maestro and an innovative Pope
Shows how music can act as a bridge between people of different faiths
A moving, inspirational, and personal story that appeals to music lovers and to people of all faith traditions
This is a compelling tale of faith, friendship, and the healing power of music to bring people together.
Foreword (John Tagliabue).
Prelude.
Part One Ave Maria.
Chapters 1-6.
Part Two Kaddish.
Chapters 7-23.
Part Three Creation.
Chapters 24-30.
Part Four Resurrection.
Chapters 31-36.
Coda.
About the DVD.
Acknowledgments.
The Author.
Not all books are worth writing; this one assuredly is, because it tells how peace can happen, one heart at a time. It helps when the hearts beat in people of influence and talent. The hearts in question are, first, that of author Levine, a conductor, Brooklyn-born Jew, and son-in-law of a Holocaust survivor. The other heart? Polish-born Pope John Paul II, who may be headed to sainthood. Levine and the late pope became acquainted when the musician became the conductor of the Krakow Philharmonic in the heady days of the late 1980s, as the Iron Curtain slowly crumbled in Eastern Europe. Levine and the pope became spiritual friends, collaborating on papal-sponsored concerts of reconciliation intended to ease estrangement and pained history between Catholic Christians and Jews, and, post-September 11, among the three Abrahamic religions. This remarkable and little-known story deserves attention. (Oct.) (
Publishers Weekly
, August 16, 2010)
"Talk about a baptism in fire. Levine is witty as he tells of his observations of Communist Poland, the intricacies of the Catholic Church, and his first glimpses of the Vatican… He strikes a dreamlike tone as he tells of how he and Pope John Paul II became friends." (The Buffalo News.com, March 20, 2011, by Mary Kunz Goldman)