The Portable Ethicist for Mental Health Professionals: A Complete Guide to Responsible Practice, with HIPAA Update, 2nd Edition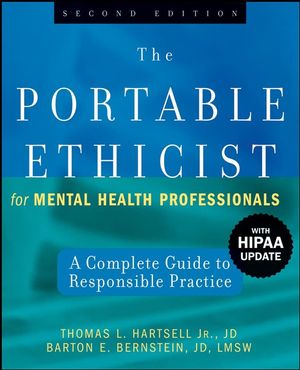 The Portable Ethicist for Mental Health Professionals: A Complete Guide to Responsible Practice, with HIPAA Update, 2nd Edition
ISBN: 978-0-470-28829-0
Aug 2008
576 pages
Description
Now fully revised and in a second edition, The Portable Ethicist for Mental Health Professionals suggests solutions to the simple and complex ethical questions mental health professionals must deal with on a daily basis. This indispensable guide arms you with the expert knowledge you need to avoid an ethical violation?or to handle the situation if a complaint is filed. Web copy, 5/14/08, RH
Preface.
Acknowledgements.
Introduction.
Part I: Client Issues.
1. Alternative Treatment Methods.
2. Boundary Violations.
3. Confidentiality.
4. Dangerous Clients.
5. Discrimination.
6. False and Misleading Statements.
7. Informed Consent.
8. Interviewing.
9. Prohibited Clients.
10. Risky Clients.
11. Repressed and Recovered Memory.
12. Sexual Misconduct.
13. Terminating Therapy.
Part II: Ethics Codes and Licensing.
14. Areas of Ethical Complaints.
15. Ethics Codes as Evidence.
16. Licensing Board Procedures.
17. Office of Civil Rights.
18. Centers for Medicare and Medicaid Services.
19. Reporting Statutes and Obligations.
Part III: Practice Considerations.
20. Billing.
21. Establishing a Practice.
22. Closing or Interrupting a Practice.
23. Kickbacks, Bartering, Fees, and Gifts.
24. Malpractice Insurance.
25. Record Keeping.
Part IV: Professional Issues.
26. Drug and Alcohol Use, Impairment.
27. Duty to Warn.
28. Interprofessional Issues.
29. Professional Vulnerability.
30. Supervision.
Part V: Special Therapy Considerations.
31. Forensic Evaluation.
32. Group Therapy.
33. Don't Do Dumb Stuff.
Epilogue: Ethics in the Twenty-First Century.
Appendix A: Mental Health Professional Organizations.
Appendix B: Allied Healthcare Providers Professional and Supplemental Liability Insurance Policy.
Appendix C: Social Workers Professional Liability Claims-Made Policy.
Appendix D: Sample Jurisprudence Exam Questions.
References and Reading Material.
Index.
• A new chapter on dealing with dangerous and problematic clients.
• A new chapter on avoiding complaints or malpractice suits by using dispute resolution alternatives such as mediation, conciliation, or arbitration.
• New material on the HIPAA Privacy and Security Rules integrated throughout the chapters.  
• A listing of useful web page addresses including links to all the ethical codes for all the national mental health organizations and state licensing boards.
Written by two attorneys specializing in mental health (Bernstein is also a clinical social worker).
Licensed mental health professionals are obligated to complete a requisite number of hours of continuing education as a condition of licensure which includes a set number of hours on ethics training.
Required course in many psychology, counseling, and social work programs.
Filled with icons and call-outs for easy reference.