The Postmodern God: A Theological Reader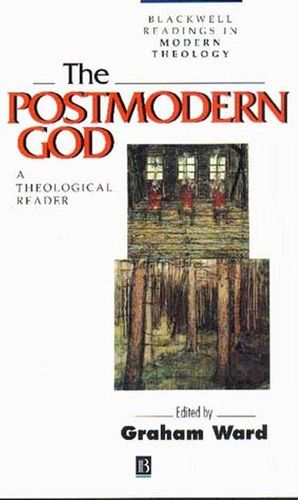 The Postmodern God: A Theological Reader
ISBN: 978-0-631-20141-0 January 1998 Wiley-Blackwell 420 Pages
Description
The Postmodern God introduces students and researchers to contemporary thought and how it could affect tomorrows theology.
Table of contents
Notes on Contributors.
Acknowledgements.
Introduction or, A Guide to Theological Thinking in Cyberspace: Graham Ward.
Part I: Selected Texts:.
1. Georges Bataille (1897-1962): Introduction.
Bataille Text: From Theory of Religion: Craig James (University of Cambridge).
2. Jacques Lacan (1901-1981): Introduction.
Text: The Death of God: Cleo McNelly Kearns (Rutgers University and New Brunswick Theological Seminary).
3. Emmanuel Levinas (1906-1995): Introduction.
Text: God and Philosophy: Robert Gibbs (University of Toronto).
4. Roland Barthes (1915-1980): Introduction.
Text: Wrestling with the Angel: Textual Analysis of Genesis 32: Valentine Cunningham (Oxford University).
5. René Girard (b.1923): Introduction.
Text: The God of Victims: Gerard Loughlin (University of Newcastle-Upon-Tyne).
6. Michel Foucault (1926-1984): Introduction.
Text: From The History of Sexuality:Mary McClintock Fulkerson and Susan J. Dunlop (Both Duke Divinity School, North Carolina USA).
7. Michel de Certeau (1925-1986): Introduction.
Text : How is Christianity Thinkable Today? and White Ecstasy: Frederick Christian Bauerschmidt (Loyola University, Baltimore USA).
8. Jacques Derrida (b.1930): Introduction.
Text: From How to Avoid Speaking: Kevin Hart (Monash University).
9. Luce Irigaray (b.1930): Introduction.
Text: Equal to Whom?: Grace M. Jantzen (University of Manchester).
10. Julie Kristeva (b.1941): Introduction.
Text: From In the Beginning was Love: Pamela Sue Anderson (University of Sunderland).
Part II: Selected Essays: .
11. From Patriarchy into Freedom: A Conversation between American Feminist Theology and French Feminism: Rebecca S. Chopp (Emory University, Georgis USA).
12. Liturgy and Kenosis, from Expérience et Absolu: Jean-Yves Lacoste.
13. Postmodern Critial Augustinianism: A Short Summa in Forth-two Responses to Unasked Questions: John Milbank (Peterhouse, Cambridge).
14. Metaphysics and Phenomenology: A Summary for Theologians: Jean-Luc Marion (University of Paris X Nanterre).
15. Asyndeton: Syntax and Insanity. A Study of the Revision of Nicene Creed: Catherine Pickstock (Emmanuel College, Cambridge).
16. New Jerusalem, Old Athens, from The Broken Middle: Gillian Rose (late of the University of Warwick).
17. Saintliness and Some Aporias of Postmodernism, from Saints and Postmodernism: Edith Wyschogrod (Queens College, City University of New York).
Index.
Reviews
"Its theses are destined to be the subject of much discussion and have already generated comment in scholarly journals."
Tracey Rowland, Gonville & Caius College, Cambridge
"This book, skilfully edited and introduced by Graham Ward, provides a framework for those who want to explore how theology might benefit from a critical engagement with postmodernism." Richard Arrandale, Canterbury Christ Church College

"We are much indebted to the editor and publisher for this volume which will prove helpful to a wide variety of readers." Merold Westphal, Fordham University in Philosophia Christi
Features
Introduces students to the burgeoning field of postmodern theology.

Brings together for the first time readings by major continental critical theorists relevant to the study of theology or religious studies.

Provides a provocative reader, an introduction to today's thinking in theology and how this could influence its future.