The Postmodern Urban Condition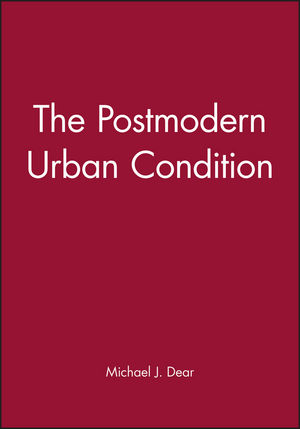 The Postmodern Urban Condition
ISBN: 978-0-631-20988-1
Feb 2001, Wiley-Blackwell
352 pages
Description
This book will change the way we understand cities. It provides readers with not only an introduction to cities and urbanism in the postmodern world but also overturns many common assumptions about urban structure.
Preface.
Acknowledgements.
Introduction.
1. Taking Los Angeles Seriously.
2. Mapping the Postmodern.
3. Postmodern Bloodlines: From Lefebvre to Jameson.
4. The Premature Demise of Postmodern Urbanism.
5. Reading the Modern City: A Colonial History of Los Angeles 1781-1991.
6. Deconstructing Urban Planning.
7. Postmodern Urbanism.

8. A Tale of Two Cities 1. Tijuana.
9. Film, Architecture and Filmspace.
10. A Tale of Two Cities 2. Las Vegas.
11. From Sidewalk to Cyberspace (and Back to Earth Again).
12. The Personal Politics of Postmodernity.
13. The Power of Place.
14. The Geopolitics of Postmodernity.
15. Epistemological Politics.
Epilogue: Beyond Postmodernism.
A Beginner's Guide to Postmodernism.
Index.
"An instant classic that belongs in every college and research library in the English-speaking world."
CHOICE
<!--end-->
"...a thoughtful, wide ranging, and ardent analysis of urbanisation at the end of the millenium." Mike Samers, University of Liverpool.

"Michael Dear's book has surely achieved its objective: to be not only provocative, but also deeply engaging, its evocations and intellectual traces raising issues of the greatest importance for reflection and action by urban scholars and other citizens." ANNALS of the Association of American Geographers


Provides an new way of understanding cities.


Gives students a critical history of postmodernism and its consequences for cities and spaces.


Reveals the importance of space and place in our understanding of social process.


Looks ahead to the urban agenda for the twenty-first century.


Winner of the Choice 2001 Award for Outstanding Academic Title.