The Postnational Constellation: Political Essays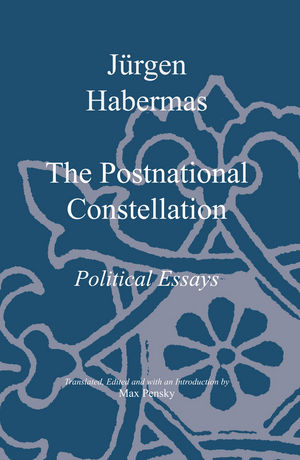 The Postnational Constellation: Political Essays
ISBN: 978-0-745-69440-5 October 2015 Polity 216 Pages
Description
Does a global economy render the traditional nation-state obsolete? Does globalization threaten democratic life, or offer it new forms of expression? What are the implications of globalization for our understanding of politics and of national and cultural identities?


In The Postnational Constellation, the leading German philosopher and social theorist J?rgen Habermas addresses these and other questions. He explores topics such as the historical and political origins of national identity, the catastrophes and achievements of "the long twentieth century," the future of democracy in the wake of the era of the nation-state, the moral and political challenges facing the European Union, and the status of global human rights in the ongoing debate on the sources of cultural identity. In their scope, critical insight, and argumentative clarity, the essays in The Postnational Constellation present a powerful vision of the contemporary political scene and of the challenges and opportunities we face in the new millennium.


Those unfamiliar with Habermas's theoretical work will find in this volume a lucid and engaging introduction to one of the world's most influential thinkers. For readers familiar with Habermas's writings, The Postnational Constellation provides an invaluable application of his social and political theories to current political realities.
Editor's Introduction.
Foreword.
What is a People? The Frankfurt "Germanists' Assembly" of 1846 and the Self-Understanding of the Humanities in the Vorm?rz.
On the Public Use of History.
Learning from Catastrophe? A Look Back at the Short Twentieth Century.
The Postnational Constellation and the Future of Democracy.
Remarks on Legitimation through Human Rights.
Conceptions of Modernity: A Look Back at Two Traditions.
The Differing Rhythms of Philosophy and Politics: Herbert Marcuse at 100.
An Argument against Cloning: Three Replies.
Notes.
Index
Jürgen Habermas has been awarded the prestigious 'Friedenspreis des deutschen Buchhandels' prize for 2001
'The Reader gains a firm appreciation of how Habermas's social theory applies to political realities ... These new books by Habermas will be indispensable for years to come [and will] undoubtedly make provocative reading.' Anthony Elliott, The Australian

'Habermas is that rare mixture of respected scholar and public intellectual. [This book] is one of his most accessible to date ... [it] is an impressive collection of essays on political issues of the day ... More generally, the book contains the thoughts of a great European intellectual of the Left who has not lost his nerve. And for this alone it is worth the money. After the 'debate' in Northern Ireland and the general lack of understanding in some circles, our political class could use a few copies.' Fortnight
1. An important new book by Habermas - one of the world's leading social and political thinkers.
2. Addresses the impact of globalization on politics and cultural identity.
3. Accessible to non-specialists, this book is an excellent introduction to Habermas' views.