The Power Presenter: Technique, Style, and Strategy from America's Top Speaking Coach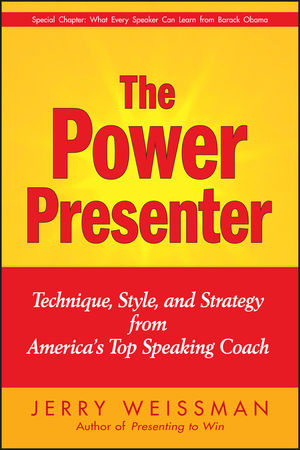 The Power Presenter: Technique, Style, and Strategy from America's Top Speaking Coach
ISBN: 978-0-470-48893-5
Jan 2009
272 pages
Description
Learn the successful presentation techniques used in over 500 IPO road shows and featured in The Wall Street Journal and Fast Company.
Jerry Weissman is the presentations coach to Microsoft, Cisco Systems, and many of America's top executives, including founding Yahoo CEO Tim Koogle, Intuit founder Scott Cook, Netflix founder and CEO Reed Hastings, and many others. The San Jose Mercury News says that Weissman's IPO presentation coaching "is worth 10% on a company stock." Learn why your body language and voice are more important than your words, how to present with poise and confidence naturally, and how to connect with any audience emotionally. Filled with illustrative case studies of Barack Obama, Ronald Reagan, George W. Bush, John F. Kennedy, and many others, The Power Presenter will bring out the best in anyone who has to stand and deliver.
Readers of The Power Presenter will have access to video clips referenced in the book.
PREFACE: The Wrong Way and the Right Way to Coach Presentations.
Case Study: Dizzy Gillespie.
INTRODUCTION: How Speaking Style and Delivery Can Raise the Value of an IPO.
Case Studies: Cisco Systems; Isilon Systems; Two Weeks of an IPO Road Show; RetailRoadshow.com
CHAPTER 1: Your Actions Speak Louder than Your Words.
Case Studies: Ronald Reagan; Dr. Sacks' Aphasic Patients; Nikita Khrushchev; Marcel Marceau.
CHAPTER 2: The Crucial Task: Creating Audience Empathy.
Case Studies: The Deer in the Headlights Revisited; Shocking British Couples; Italian Laboratory Monkeys; Robert Krulwich; Bob Dole; Gray Davis versus Arnold Schwarzenegger; Barack Obama.
CHAPTER 3: The Butterflies in Your Stomach.
Case Study: September Morn.
CHAPTER 4: How to Prepare Your Content.
Case Studies: Will Poole and Jeff Raikes, Microsoft; Patrick McGovern, IDG.
CHAPTER 5: You Can Be a Power Presenter—Charisma Not Required.
Case Studies: The Transformations of George W. Bush and Bill Clinton.
CHAPTER 6: The Mental Method of Presenting: Make the Butterflies Fly in Formation.
Case Studies: The Actors Studio; Barack Obama versus Hillary Rodham Clinton; Libby Dole; Carly Simon; Marya McCabe, Microsoft; Lawrence Steinman, MD; The Squinting Woman.
CHAPTER 7: Learn to Speak with Your Body Language.
Case Studies: Joe Moglia, TD Ameritrade; Marshall Klaus, MD; Sir Isaac Newton; Generals Richard Neal and H. Norman Schwarzkopf; The Kennedy-Nixon Debate.
CHAPTER 8: Control Your Cadence.
Case Studies: The Frenchman Who Paused; Jazz Artists Frank Sinatra, Ella Fitzgerald, Amanda Carr, and Dizzy Gillespie; General Israel Putnam; Ludwig van Beethoven; Dr. Krzysztof Izdebski and Claude Steinberg, Pacific Voice and Speech Foundation; Leonard Bernstein; Lorin Maazel; The Further Transformation of George W. Bush.
CHAPTER 9: Masters of the Game.
Case Studies: Sir Winston Churchill; John F. Kennedy; Reverend Martin Luther King, Jr.; Reverend Billy Graham; Ronald Reagan; Barack Obama.
CHAPTER 10: What Every Speaker Can Learn from Barack Obama.
Case Studies: Abraham Lincoln; John F. Kennedy; Sir Winston Churchill; Reverend Martin Luther King, Jr.; Ronald Reagan; John McCain.
CHAPTER 11: Graphics Synchronization.
Case Studies: Federico Fellini; Olivier Fontana, Microsoft; Bill Jasper, Dolby Laboratories; Goldman Sachs.
CHAPTER 12: Graphics and Narrative.
Case Studies: Leslie Culbertson, Intel; Katherine Crothall, PhD, Animas; Eric Tardif, Piper Jaffray; Abraham Lincoln.
CHAPTER 13: The Power Presentations Pyramid.
Case Study: The NAFTA Debate: Al Gore vs. Ross Perot.
CHAPTER 14: Coda—Ending with the Beginning.
Case Studies: Ronald Reagan and Joe Moglia Reprised; Cindy Burgdorf, SanDisk.
ACKNOWLEDGMENTS.
NOTES.
INDEX.