The Power of Pictures: Creating Pathways to Literacy through Art, Grades K-6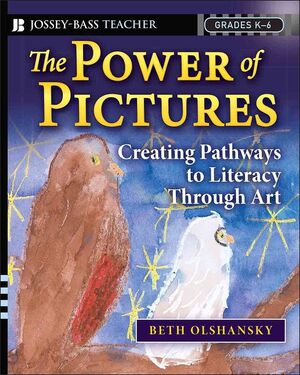 The Power of Pictures: Creating Pathways to Literacy through Art, Grades K-6
ISBN: 978-0-787-99667-3 April 2008 Jossey-Bass 276 Pages
Description
In The Power of Pictures book and companion DVD, Beth Olshansky introduces teachers to her innovative art-based approach to literacy instruction. Widely practiced in classrooms across the country, the model has been proven by research to improve literacy achievement with a wide range of learners, especially those who struggle with verbal skills. At the heart of her approach is the Artists/Writers Workshop. Through study of quality picture books and hands-on art experiences, students learn to visualize, "paint pictures with words," and ultimately create their own extraordinary artistic and literary work. The book and DVD explain how any teacher can successfully use this process to enable all students, particularly low performers, to make dramatic gains in both reading and writing.
Table of contents
Preface xi
Acknowledgments xvii
The Author xxiii
About the DVD xxv
Part One: The Foundation
1. Why Build Art into Literacy Learning? 3
2. Bringing Words and Pictures Together: A New Model 19
Part Two: The Workshop Process
3. Reading: Study of Quality Picture Books 45
4. Art: Thinking in Pictures 55
5. Writing: Weaving Pictures into Words 71
6. Refining and Celebrating the Work 89
7. Planning, Implementing, and Assessing Lessons 103
8. Developing Visual Literacy: Study of Two Picture Books 125
9. Mini-Lessons: Painting to Writing 155
10. Conclusion: The Power of Pictures 183
Appendix A: Program Effectiveness: Research Results 187
Appendix B: Instructional Tools 209
References 219
Index 223
Contents of the DVD 232
Features
Meets critical need
: Teachers and teacher-educators are desperate for alternative literacy instruction approaches that work well with diverse students in mixed-ability classrooms.
Research-based: Program has been proven effective for improving writing and reading achievement, especially for at-risk learners. Positive benefits for ESL students as well.
Innovative: One of the few models to apply 'brain-based' and 'multiple intelligences' theory to literacy learning.
Motivational: Appeals to reluctant and resistant students, including boys.
Workable: Offers practical, flexible approach for combining art and literacy learning seamlessly into the classroom. No special art training required!
Accompanied by a 'how to' DVD explaining the process, including the art techniques.