The Power of Self-Coaching: The Five Essential Steps to Creating the Life You Want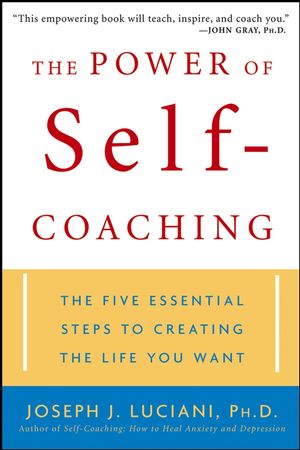 The Power of Self-Coaching: The Five Essential Steps to Creating the Life You Want
ISBN: 978-0-471-46360-3
Aug 2004
256 pages
Description
An easy program for freeing yourself from your mental and emotional traps-and leading the life you want and deserve

""This empowering book will teach, inspire, and coach you to break the habits of insecurity that prevent you from realizing your spontaneous inner potential for genuine happiness.""
-John Gray, Ph.D., author of Men Are from Mars, Women Are from Venus

""There is nothing more empowering than accepting responsibility. Taking responsibility is not about assuming fault; it is about re-taking the helm and control of your journey in life. This book will help you navigate through the difficulties of personality and behavioral change to more emotional peace.""
-Dr. Laura Schlessinger, author of The Proper Care and Feeding of Husbands

Nobody is born insecure, angry, bored, or depressed. The fact is, happiness is our natural state and, as psychologist Dr. Joseph J. Luciani explains in this warm, witty, and empowering guide, chronic unhappiness is just a bad habit-a habit that can be broken.

It's much easier than you think! Based on Dr. Luciani's twenty-five years of experience helping patients unlearn reflexive, destructive thinking, The Power of Self-Coaching arms you with all the tools you need to free yourself from your mental and emotional traps. As you work through the many self-quizzes, training and coaching exercises, and Power Drills, you'll see yourself anew and feel yourself growing lighter, more spontaneous, and ready to take charge of your life.

A proven five-step program for reconnecting with the innate capacity for happiness, The Power of Self-Coaching gives you what you need to:
* Identify learned patterns of thought and feelings that are making you unhappy
* Use Dr. Luciani's celebrated Self-Talk techniques to develop new, healthy ways of thinking and feeling
* Eliminate boredom, hopelessness, chronic fatigue, and emotional numbness from your life
* Tap your full creative, intellectual, and emotional potential and live the rich, rewarding life you want and deserve
Acknowledgments.
Preface.
Introduction: Choose to Change, Choose the Life You Want.
Part I: The Promise of Self-Coaching.
1. Self-Coaching: Get the Power.
2. Choosing Happiness, Dropping Misguided Goals.
Part II: Your Problems: The Roots of Change.
3. Why Are You Insecure?
4. Choose Not to Worry.
5. Stop Controlling Life.
6. Reflexive Thinking.
7. Stop Insulating and Avoiding.
8. A Perfect Way to Be Miserable.
9. No More Lies.
10. Trust Yourself.
Part III: The Five Steps of Self-Talk.
11. Step One: Chart Your Weaknesses.
12. Step Two: Separate Fact from Fiction.
13. Step Three: Stop Listening to the Noise.
14. Step Four: Let Go.
15. Step Five: Motivate Yourself.
Part IV: Living with the Power of Self-Coaching.
16. Use Your Power.
Index.