The Practical Guide to Information Design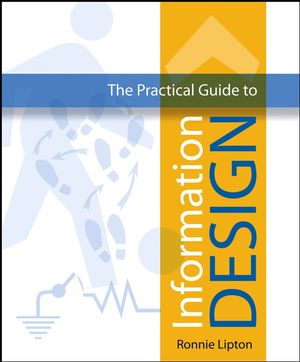 The Practical Guide to Information Design
ISBN: 978-0-471-66295-2
Feb 2007
304 pages
Description
The definitive, behind-the-scenes guide to mastering information design

Finally, in one usable format, here's your single-volume resource for designing clear projects that really work for your audience. The Practical Guide to Information Design provides all the tools, resources, and best practices that designers need to create highly successful print and digital information design projects.

A brilliant combination of practice and theory, this highly visual book covers the principles of design, perception, and usability, complete with step-by-step examples that feature the work of today's leading professionals. Comprehensively illustrated with hundreds of valuable graphs, maps, tables, line drawings, and photos, The Practical Guide to Information Design features:
* Complete descriptions and comparisons of various formats
* A range of helpful exercises to reinforce covered material
* Handy summary boxes, bulleted lists, captions, and examples
* A wealth of useful resources for professionals and students
Acknowledgments.
Introduction.
SECTION I: AUDIENCE.
Identifying the Audience.
Chapter 1. How humans (almost) universally Perceive.
Chapter 2. Usability and how to achieve it.
SECTION II: WORD DESIGN.
How to Design Understandably.
Chapter 3. How to work with type and layout.
Chapter 4. How to write clearly.
Chapter 5. How to use color meaningfully.
SECTION III: PICTURE DESIGN.
How to Design Meaningful Graphics.
Chapter 6. How to make pictures that inform.
Chapter 7. Design, label, and caption diagrams clearly.
Chapter 8. Clear forms improve users' experience.
Chapter 9. How to help people find their way clearly.
Bibliography/resources.
Index.
About the author.
Complete descriptions and comparisons of various formats
Step-by-step examples, including the best work of top-notch professionals
Covers the principles of design, perception, and usability
Generous use of color throughout with hundreds of illustrations including graphs, maps, tables, line drawings, and photos
Includes a range of educational exercises
Accessible design provides summary boxes, bulleted lists, captions, and examples