The Practice of Construction Management: People and Business Performance, 4th Edition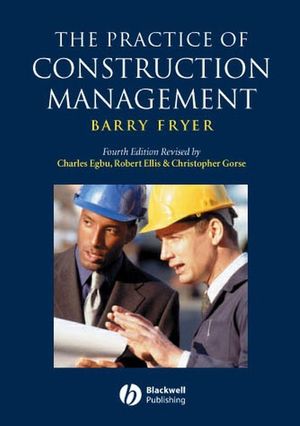 The Practice of Construction Management: People and Business Performance, 4th Edition
ISBN: 978-1-405-11110-2 September 2004 Wiley-Blackwell 368 Pages
Description
This book offers construction managers and students a readable account of management ideas and practices, concentrating particularly on the human side of construction management. It pulls together what has been learned both from management practice and research, and summarises the main themes and trends.
The text has been substantially revised to reflect the latest management thinking and to include new sections on communication, conflict management and managing innovation.
Table of contents
The development of management thinking; Managers and their jobs; Organisation; Leadership; Communication; Conflict and conflict management; Individuals, group behaviour and teamwork; Motivation and human performance; Conflict; Problem-solving and decision-making; Managing change; Value and risk management; Managing innovation in construction; Managing supply chains and construction networks; Human Resources Management; Recruitment and staff development; Health and safety; Industrial relations; Managing quality and environmental impact
Reviews
It provides a perfect introduction to the various theories and does a good job in relating them to construction management activities... Although I am familiar with theories it contains, the manner in which they are presented makes this a fascinating and thought-provoking read, far superior to similar books I have studied.
Building Engineer Feb 2005
Features
* growing interest in the 'softer' aspects of construction management
* substantial revisions and additions, including communication, conflict management and managing innovation
* now features tutor-led debate topics, discussion items and questions for every chapter