The Practitioner-Researcher: Developing Theory from Practice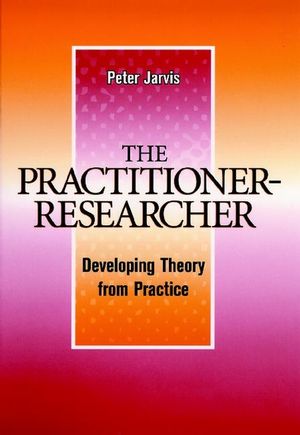 The Practitioner-Researcher: Developing Theory from Practice
ISBN: 978-0-787-93880-2 November 1998 Jossey-Bass 224 Pages
Description
"Jarvis does a real service by introducing a new vision of research into the current debates over the nature and mission of the academy."
--
Continuing Higher Education Review
"Jarvis has managed to bridge the worlds of theory and professional practice in a way that will help each better understand the other."
--Jon Wergin, professor of educational studies, School of Education, Virginia Commonwealth University
Genuine understanding of any field can only be developed through practice in that field. Peter Jarvis, an internationally known authority in the field of professional adult and continuing education, shows how theories of practice evolve from the practice itself and are unique to each practitioner. Doing professional work gives practitioners many opportunities to question, test, and revise theories taught in graduate programs. Such practice-based research gives rise to personalized theories of practice and also raises new questions for personal exploration.
Using examples and vignettes drawn from professional fields and settings around the world, Jarvis provides valuable insights into the nature of professional practice, the ways professionals learn, and how education for practice can be enhanced at both the undergraduate and graduate levels. Jarvis examines why so many practitioners find their professional education inadequate preparation for actual practice, and he calls for a partnership between higher education and the professional workplace that will meet the challenges of the relationship between the two.
The Practitioner-Researcher is designed to help all practitioners for whom research is a tool in improving practice--from graduate students and their professors to employees in diverse industries or professional groups--and to facilitate an understanding of the relationship between practice and theory within the worlds of work and learning.
Table of contents
UNDERSTANDING CONNECTIONS BETWEEN RESEARCH AND PRACTICE.

1. The Practitioner-Researcher.

2. Educating the Practitioner-Researcher.

3. Researching Practice.

THE NATURE OF PRACTICE.

4. The Practitioner's Knowledge.

5. Practicing.

6. Reflective Practice.

RESEARCH IN PRACTICE.

7. Case Studies.

8. Action Research.

9. Collaborative Research.

10. Using Documents.

11. Small-Scale Surveys.

PRACTICE AND THEORY.

12. Developing a Personal Theory.

13. Theory Reconceptualized.

14. From Practice to Theory?

REFLECTIONS ON THE PRACTITIONER-RESEARCHER.

15. Practitioner Research and the Learning Society.

16. Practitioners' Continuing and Learning.

17. The Universities and the World of the Practitioner-Researcher.
Reviews
"Jarvis has successfully eliminated the mystery and fear of conducting academic research in this easy to read book which encourages educators and others to become practitioner-researchers." (Pade Informer)

"Jarvis does a real service by introducing a new vision of research into the current debates over the nature and mission of the academy." (Continuing Higher Education Review)

"At last, a window into what it means to 'learn by doing' . . . This is a remarkable book. Jarvis has managed to bridge the worlds of theory and professional practice in a way that will help each better understand the other." (Jon Wergin, professor of educational studies, School of Education, Virginia Commonwealth University)

"Peter Jarvis's own extensive biography as scholar and practitioner shows through in this book. His skillful blAnding of theory and practice produces a store of information that can prove useful to professors and practitioners alike, especially when they choose to work together to construct practical knowledge." (John M. Peters, professor, University of Tennessee)