The Prepared Mind of a Leader: Eight Skills Leaders Use to Innovate, Make Decisions, and Solve Problems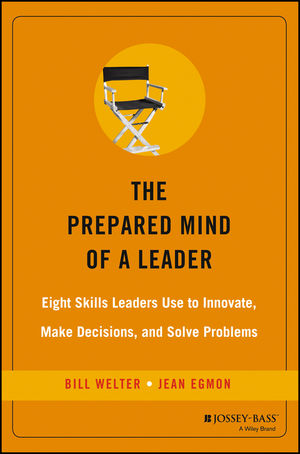 The Prepared Mind of a Leader: Eight Skills Leaders Use to Innovate, Make Decisions, and Solve Problems
ISBN: 978-0-787-98194-5
Sep 2005, Jossey-Bass
320 pages
Description
Thinking to stay ahead of change

In a complex business climate, people need to make informed decisions and learn how to think flexibly. A leader's most important asset is the ability to sense changes in the environment and adapt to them quickly. The Prepared Mind of a Leader presents an original and effective way to think more flexibly about innovation, strategy, change, and problem solving. It helps leaders anticipate challenges and prepare for both the intended and unintended consequences of change by laying out a program for developing, maintaining, and mobilizing eight key skills: Observing, Challenging, Reflecting, Reasoning, Imagining, Deciding, Learning, and Teaching. These skills provide a framework that the thoughtful leader or manager can use to approach issues of strategy, innovation, and more. Chapters feature interactive tools that will help readers develop each of the key skills.

Bill Welter (Bartlett, IL) is President of Adaptive Strategies, a consulting firm focused on helping clients in a wide range of industries to deal with change. Jean Egmon (Wilmette, IL) is Director of the Complexity in Action Network and on the faculty at the Kellogg School of Management at Northwestern University.
Introduction: Chance Favors the Prepared Mind.
PART ONE: OUR FOUNDATION AND FRAMEWORKS.
1. The Only Foundation We Have.
2. Frameworks for Intentional Preparation.
PART TWO: THE SKILLS OF PREPARED MIND LEADERSHIP.
3. Observing: Seeing Beyond the Obvious.
4. Reasoning: Moving from the Known to the Undetermined.
5. Imagining: Envisioning the Future Before It Arrives.
6. Challenging: Pushing for Higher and Deeper Thinking.
7. Deciding: Choosing with Consequences in Mind.
8. Learning: Keeping a Developmental Mind-Set.
9. Enabling: Exercising Leadership from the Outside In.
10. Reflecting: Looking Backward, Forward, and Inward.
11. Conclusion: Preparing for Tomorrow.
Notes.
Acknowledgments.
About the Authors.
Index.