The Price Advantage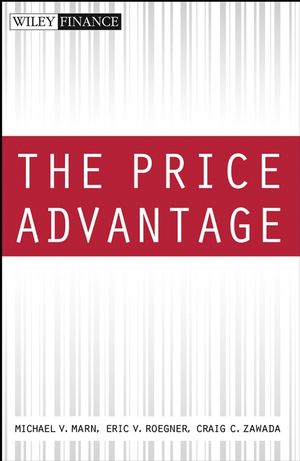 The Price Advantage
ISBN: 978-0-471-69002-3
Apr 2004
304 pages
Description
The Price Advantage by three preeminent experts at McKinsey & Company is the most pragmatic and insightful book on pricing available. Based on in-depth, first-hand experience with hundreds of companies, this book is designed to provide managers with comprehensive guidance through the maze of pricing issues. The authors demonstrate why pricing excellence is critical to corporate success and profitability, then explain state-of-the-art approaches to analyzing and improving your own pricing strategy for any product or service. Their advice is critical for readers who need to develop pricing strategies that work in both good economic times and bad.
Preface.
Acknowledgments.
PART ONE: PRICING FUNDAMENTALS.
Chapter 1. Introduction.
Chapter 2. The Three Levels of Price Management.
PART TWO: EXPLORING THE LEVELS.
Chapter 3. Transaction.
Chapter 4. Product/Market Strategy.
Chapter 5. Industry Strategy.
PART THREE: SPECIAL TOPICS.
Chapter 6. New Product Pricing.
Chapter 7. Solutions, Bundles, and Other Packaged Offerings.
PART FOUR: UNIQUE EVENTS.
Chapter 8. Postmerger Pricing.
Chapter 9. Price Wars.
PART FIVE: EXPANDING THE BOUNDARIES.
Chapter 10. Technology-Enabled Pricing.
Chapter 11. Legal Issues.
PART SIX: BRINGING IT TOGETHER.
Chapter 12. Pricing Architecture.
Chapter 13. Driving Pricing Change.
Chapter 14. The Monarch Battery Case.
Chapter 15. Epilogue.
Appendix 1: Sample Pocket Price and Pocket Margin Waterfalls.
Appendix 2: Antitrust Issues.
Appendix 3: List of Acronyms.
About the Authors.
Index.
1.Getting transaction pricing right is one of the keys to surviving the current downturn and to flourishing when the economic upturn arrives. Yet few companies are as discipline and scientific about pricing as they should be. This book shows them how to achieve a pricing advantage, from the preeminent consulting firm in the field. 
2. FRANCHISE BUILDING TOOLS. Book/workbook demonstrate simply transactional pricing tools such as McKinsey's own ""pocket price waterfall."" The waterfall demonstrates how companies can lose money within a series of transactions, or exploit opportunities at each step along the transaction pricing chain. Application of pocket price waterfall is now being applied to very complex pricing problems posed by competitive dynamics existing in every major industry, including Web-based businesses.