The Primate Visual System: A Comparative Approach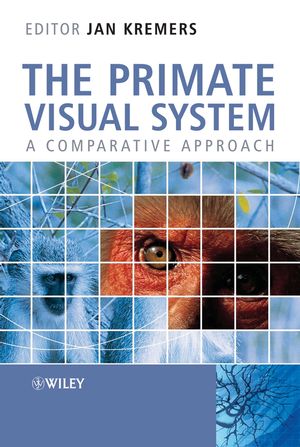 The Primate Visual System: A Comparative Approach
ISBN: 978-0-470-86810-2
Dec 2005
382 pages
Description
Many recent developments in the field in recording, staining, genetic and stimulation techniques, in vivo, and in vitro have significantly increased the amount of available data on the primate visual system.

Written with contributions from key neurobiologists in the field, The Primate Visual System will provide the reader with the latest developments, examining the structure, function and evolution of the primate visual system. The book takes a comparative approach as a basis for studying the physiological properties of primate vision and examines the phylogenetic relationship between the visual systems of different primate species. Taken from a neurobiologist's perspective this book provides a unique approach to the study of primate vision as a basis for further study into the human visual system.

Altogether an important overview of the structure, function and evolution of the primate visual system from a neurobiologist's perspective, written specifically for higher level undergraduate and graduate students taking courses in neuroscience, physiology, optics/ visual science, as well as a valuable read to researchers new to the field.
Preface.
List of Contributors.
1. The Evolutionary and Ecological Context of Primate Vision (R. Martin & C. Ross).
2. Comparative Aspects of Visual System Development (B. Finlay, et al.).
3. The Genetics and Evolution of Primate Visual Pigments (D. Hunt, et al.).
4. The Ecology of the Primate Eye: Retinal Sampling and Color Vision (D. Osorio, et al.).
5. Comparative Anatomy and Physiology of the Primate Retina (L. Silveira, et al.).
6. The Lateral Geniculate Nucleus (J. Kremers, et al.).
7. Extraretinal Inputs and Feedback Mechanisms to the Lateral Geniculate Nucleus (LGN) (V. Casagrande, et al.).
8. Visual Functions of the Retinorecipient Nuclei in the Midbrain, Pretectum, and Ventral Thalamus of Primates (M. Ibbotson & B. Dreher).
9. The Evolution of Visual Cortex in Primates (J. Kaas).
10. The Physiological Basis for Visual Motion Perception and Visually Guided Eye Movements (U. Ilg, et al.).
11. Psychophysical Correlates of Identified Physiological Processes (A. Werner, et al.).
Index.
"…a treasure trove of information on visual systems…" (The Quarterly Review of Biology, March 2006)