The Probation and Parole Treatment Planner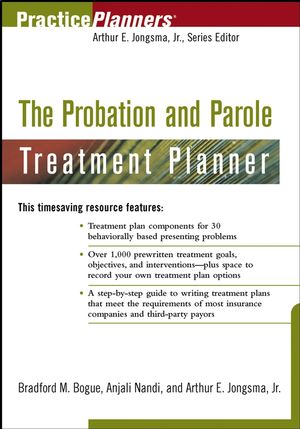 The Probation and Parole Treatment Planner
ISBN: 978-0-471-47398-5
May 2003
320 pages
Description
The Probation and Parole Treatment Planner provides all the elements necessary to quickly and easily develop formal treatment plans that satisfy the demands of HMOs, managed care companies, third-party payors, and state and federal review agencies
Saves you hours of time-consuming paperwork, yet offers the freedom to develop customized treatment plans for clients on parole or probation
Organized around 29 main presenting problems, from probation/parole noncompliance and vocational deficits to violent aggressive behavior and childhood trauma, abuse, and neglect
Over 1,000 well-crafted, clear statements describe the behavioral manifestations of each relational problem, long-term goals, short-term objectives, and clinically tested treatment options
Easy-to-use reference format helps locate treatment plan components by behavioral problem or DSM-IV-TR(TM) diagnosis
Includes a sample treatment plan that conforms to the requirements of most third-party payors and accrediting agencies (including HCFA, JCAHO, and NCQA)
Practice
Planners
®
Series Preface.
Acknowledgments.
Introduction.
Anger.
Assertiveness Deficits.
Authority Conflicts.
Callousness (Lack of Empathy/Honesty).
Chemical Dependence.
Childhood Trauma/Abuse/Neglect.
Consequential Thinking Deficits.
Criminal Peers.
Deceitful.
Depression/Suicidal Ideation.
Driving-Related Offenses.
Family Conflict/Alienation.
Family Criminality/Deviance.
Financial Management Problems.
Gender Identification Issues.
Impulsivity.
Inadequate Social Support/Social Isolation.
Intimate Relationship Conflict.
Moral Disengagement.
Narcissistic—Unprincipled.
Problem-Solving Skill Deficits.
Psychosis.
Self-Concept Deficits.
Self-Defeating Behavior Pattern (non-AOD).
Sexually Deviant Behavior.
Time Management Problems.
Unstable Living Situation.
Violent/Aggressive Behavior.

Vocational Deficits.
Appendix A: Sample Chapter with Quantified Language.
Appendix B: Bibliotherapy References.
Appendix C: Index of DSM-IV-TR Codes Associated with Presenting Problems.
Appendix D. Bibliography.