The Professional Housekeeper, 4th Edition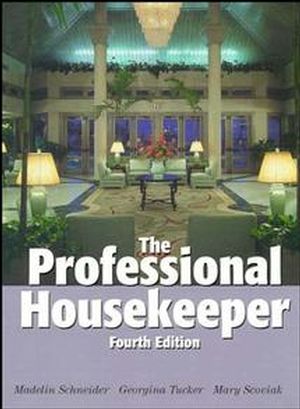 The Professional Housekeeper, 4th Edition
ISBN: 978-0-471-29193-0 December 1998 320 Pages
Description
With the advent of new technology, new markets, and new products, the rapidly changing responsibilities of the professional housekeeper demand a resource manual for today's lodging industry. In this Fourth Edition of The Professional Housekeeper, the authors address the evolving role of the professional housekeeper as a manager. No longer responsible only for cleaning duties and time schedules, today's professional housekeeper must be knowledgeable about staff diversity issues, building relations with unions, and maximizing the uses of available technology while staying aware of the bottom line. The professional housekeeper must also be aware of growing health and safety concerns. This comprehensive text has been updated to include everything from the latest information on self-managed teams in cleaning, "green cleaning," and recycling, to technological advances in the industry. Students and teachers alike will find The Professional Housekeeper, Fourth Edition an invaluable reference for this ever-changing profession.
Housekeeping: The Scope of the Lodging Industry.

Key Roles and Responsibilities of the Professional Housekeeper.

Effective Staffing and Scheduling.

Training, Motivating, and Evaluating Staff.

Cleaning Guest Rooms and Bathrooms.

Cleaning Public Areas and the Back of the House.

Maintaining Floors.

Managing the Care of Interior Design Elements.

Managing Equipment and Supplies.

Managing the On-Premise Laundry and Working with Contract Laundry Operations.

Controlling Linens, Uniforms, and Storage.

Preparing and Managing Budgets.

Overseeing Safety and Security.

Trends for Today: Using Technology, Instituting Environmental Practices.

Capitalizing on Opportunities for the Future.

Glossary.

Index.