The Professional Practice of Architectural Working Drawings, 3rd Edition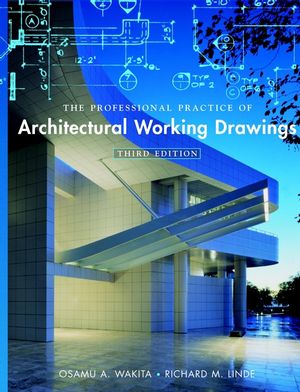 Description
The practical, comprehensive handbook to creating effective architectural drawings
In one beautifully illustrated volume, The Professional Practice of Architectural Working Drawings presents the full range of skills, concepts, principles, and applications needed to create a full set of architectural working drawings. This new Third Edition emphasizes the importance of communicating general design concepts through specific working drawings. Chapters proceed logically through each stage of development, beginning with site and foundation plans and progressing to elevations, building sections, and other drawings.
New features of this Third Edition include:
Coverage of the latest CAD technologies and techniques
Environmental and human design considerations
Supplemental step-by-step instructions for complex chapters
Ten case studies, including five fully evolved case studies
Hundreds of additional computer-generated drawings and photographs, including three-dimensional models and full-size buildings shown in virtual space
Tips for establishing a strategy for developing construction documents
This new edition also presents completely updated material on metric conversions, code analysis, masonry, and steel. Sets of working drawings for five different buildings are followed layer by layer from design concept through the finished construction documents. A companion Web site (www.wiley.com/go/wakita) includes summaries for each chapter, a glossary, review questions, laboratory problems, access to dozens of CAD drawings, a complete study guide, and much more.
The Professional Practice of Architectural Working Drawings, Third Edition is an invaluable book for students in architecture, construction, engineering, interior design, and environmental design programs, as well as beginning professionals in these fields.
Preface.
Part I. Professional Foundations.
Chapter 1. The Office.
Chapter 2. Basic Drafting Requirements, Standards, and Techniques.
Chapter 3. Computer-Aided Drafting (CAD).
Chapter 4. Environmental and Human Considerations.
Chapter 5. Construction Methods and Materials.
Chapter 6. Initial Preparation Phase for Construction Documents.
Chapter 7. Game Plan for Materials Selected.
Part II. Document Evolution.
Chapter 8. Site and Grading Plan.
Chapter 9. Foundation Plan.
Chapter 10. Floor Plan.
Chapter 11. Schedules: Door, Window, and Finish.
Chapter 12. Building Sections.
Chapter 13. Exterior Elevations.
Chapter 14. Roof Plan and Framing Systems.
Chapter 15. Interior Elevations.
Chapter 16. Architectural Details and Vertical Links (Stairs/Elevators).
Part III. Case Studies.
Chapter 17. Conceptual Design and Construction Documents for a Conventional Wood Residence.
Chapter 18. Conceptual Design and Construction Documents for a Wood Building-Beach House.
Chapter 19. Conceptual Design and Construction Documents for a Steel and Masonry Building-Theatre.
Chapter 20. Madison Steel Building.
Chapter 21. Tenant Improvements.
Index.
New chapters: CAD, environmental factors.
Increased coverage of metric conversions, clarified code analysis. Expanded sections on masonry and steel, additional CAD layering information and standards.
Actual working drawings and aerial photographs are used to complement case studies.
Includes more than 900 illustrations (most were specifically created for this book by the authors) including dozens of new 3-dimensional drawings.
Case studies. Includes a new case study featuring an office complex. Each stage of development and construction are covered.