The Protestant Ethic and the Spirit of Capitalism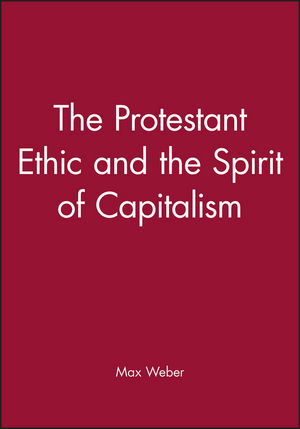 The Protestant Ethic and the Spirit of Capitalism
ISBN: 978-0-631-23081-6 January 2002 Wiley-Blackwell 352 Pages
Description
First published in 1905 The Protestant Ethic and the Spirit of Capitalism is one of the most renowned and controversial works of modern social science. It is a brilliant book which studies the psychological conditions which made possible the development of capitalist civilization.
Introduction to the Translation:Stephen Kalberg.
Introduction to The Protestant Ethic:Stephen Kalberg.
Glossary.
Part I: The Problem:.
1. Religious Affiliation and Social Stratification.
2. The Spirit of Capitalism.
3. Luther's Conception of the Calling.
Task of the Investigation.
Part II: The Vocational Ethic of Ascetic Protestantism:.
4. The Religious Foundations of This-Worldly Asceticism.
Calvinism.
Pietism.
Methodism.
The Baptizing Sects and Churches.
5. Asceticism and the Spirit of Capitalism.
The Protestant Sects and the Spirit of Capitalism: Trans. Hans H. Gerth and C. Wright Mills.
"Prefatory Remarks" to Collected Essays in the Sociology of Religion (1920).
Notes for The Protestant Ethic.
Notes for The Protestant Sects.
Notes for Prefatory Remarks.
Name Index.
Subject Index.
"In a style at once elegant and rigorous, Stephen Kalberg presents us with a superb translation of Max Weber's classic study of religion and economics that to a large extent has defined the nature of the historical sociology of capitalism... [This] work of authoritative and authentic scholarship ... will establish the bench mark for Weber translations in the social sciences."
Bryan S. Turner, University of Cambridge
"I am glad to see this immensely important work, first published a century ago, finally made available to the English reading public in an accessible version ... Kalberg succeeds in making the text a pleasure to read." Egon Bittner, Brandeis University

"Weber's classic text has now at last been given the treatment it deserves in English, with Stephen Kalberg's meticulous translation and superb editorial presentation." William Outhwaite, University of Sussex

"This new translation offers a readable, trenchant alternative to the ideologies of modernity and to the postmodernist philosophies central to much social theory, ethics and theology today. Those interested in the future will attend to this fresh recovery of the past." Max L. Stackhouse, Princeton Theological Seminary

"Stephen Kalberg has produced a book that teachers and students will find invaluable. What an excellent idea, to combine a new translation of Max Weber's The Protestant Ethic and the Spirit of Capitalism with other closely related writings of Weber's, including a detailed and accessible introduction and supporting background information on Weber the man, on the book, and on its place in contemporary social science. Kalberg's comprehensive introduction manages to be informative and scholarly while remaining a clear and intelligible guide to the book. The introduction offers an accurate and refined statement of Weber's important and influential (if often misunderstood) thesis, placing it in the context of its era and to Weber's general idea of sociology. This new version of The Protestant Ethic should greatly improve upon its predecessor and clear up misunderstandings of Weber's meaning which the earlier translation may have engendered." Wes Sharrock, University of Manchester

"This new translation of Weber's The Protestant Ethic, one of the most important social science works of the twentieth century, is a welcome and worthwhile enterprise. It carefully presents the numerous and important nuances of Weber's text, giving a clear idea of the place of this text in the intellectual framework of his time. Professor Kalberg's introduction provides a very interesting commentary on this text as well as the place of Weber's work in the history of sociology and its relevance to the central problems of contemporary sociology theory. [The book] is a distinct contribution - and a tool for students of sociological theory and its history." S.N. Eisenstadt, The Hebrew University of Jerusalem

"A couple of years ago I had to re-read Plato's Republic. I was amazed by the striking resemblance between the social problems addressed by Plato and the problems of contemporary societies. I had similar experience after reading the new translation of The Protestant Ethic and the Spirit of Capitalism by Stephen Kalberg, an internationally acclaimed Weberian scholar. Although capitalism and the discursive formation that has laid the foundation for its existence has changed very much, reading this classical work of Weber reminds one the nature and operations of capitalism that we take for granted...[Kalberg] has successfully overcome the daunting task of balancing between keeping Weber's message intact while at the same time providing a reader friendly translation." AlemSeghed Kebede, California State University, Bakersfield

"Essentially, Kalberg achieves his goal of providing an indispensable, up-to-date resource for the scholar, teacher, student while, at the same time presenting the general, albeit serious reader with an engaging version of this most outstanding of Weber's works. Auto/Biography Journal


Presents new, accessible translation by internationally acclaimed Weberian scholar


Contains classic text by Weber exploring the continuing debate over the origins and legacy of modern Western capitalism


Includes an enlightening introduction by the translator, a glossary, and supplemental essays