The Psychologist as Expert Witness, 2nd Edition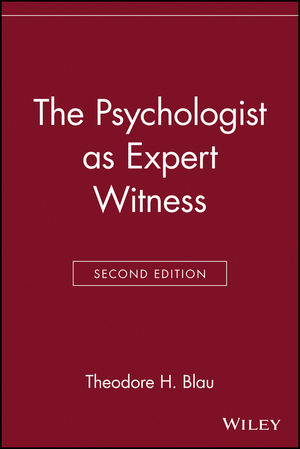 The Psychologist as Expert Witness, 2nd Edition
ISBN: 978-0-471-11366-9 November 2001 608 Pages
Description
The leading resource on forensic practice

The Psychologist as Expert Witness, Second Edition introduces practitioners to the law and the role of psychologists in the courtroom, covering all facets of forensic practice-one of the most rapidly growing areas of professional specialization. This comprehensive primer prepares the psychologist to function credibly as an expert witness, identifying the current and emerging areas of application of psychology to the law.

Revealing psychology's enormous potential to promote human welfare through the American system of jurisprudence, former American Psychological Association president Theodore Blau:
* Outlines the ways psychology has come into contact with the court via the areas of neuropsychology, clinical psychology, psychotherapy, mental disability, psychological profiles, various marital and family issues, and others
* Offers a wide range of situations in which psychologists have appeared as expert witnesses
* Includes step-by-step instructions on examining competency to stand trial and making custody recommendations
* Examines cases where psychologists have done well-and not so well-in court
* Discusses malingering, deceit, and exaggeration
* Presents guidelines for testifying in marital, civil, and criminal disputes
* Emphasizes standards for practice and practical training in providing testimony to the courts
Table of contents
Coming of Age.

Present and Future Roles of the Psychologist.

The American Court System.

Preparing to Serve as an Expert Witness.

Admissibility.

Psychological Tests in the Courtroom.

Competency to Stand Trial, to Testify, and To Make Decisions.

The Insanity Defense.

Addiction and the Law.

Domestic Issues: Marriage, Dissolution, and Custody.

The Expert Witness and Personal Injury Litigation.

Malingering, Deceit, and Exaggeration.

Your Day in Court.

Emerging Applications and Issues.

Ethics, Constraints, Concerns, and Standards.

Appendix A: Landmark Cases.

Appendix B: Current Training in Psychology and the Law.

Appendix C: Expert Witness Admissibility--Federal Rules of Evidence, 1993.

Appendix D: Custody Evaluation Guidelines Recommended by the APA.

Appendix E: Tables and Formulae for Comparing Military Test Performance with Current Test Results.

Appendix F: Forensic Psychology Specialty Guidelines.

Appendix G: Comparison of Neuropsychological Test Performance in Forensic and Non-Forensic Populations.

Appendix H: Ethical Principles of Psychologists and Code of Conduct.

Forensic Glossary.

References.

Author Index.

Subject Index.