The Psychology of Investing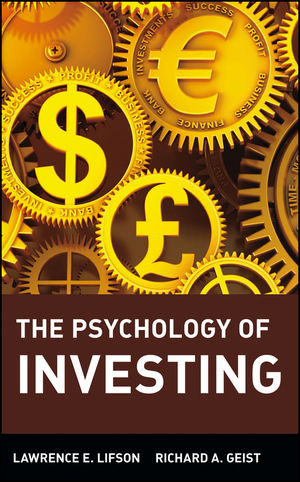 The Psychology of Investing
ISBN: 978-0-471-18339-6
Mar 1999
208 pages
Description
The first comprehensive book to apply psychological theory to a broad range of investment topics, The Psychology of Investing explores the interface between human emotions and financial decision making. Drawing on the invaluable wisdom and cutting-edge research of top experts in what is an area of ever-increasing interest and importance, it describes how both group dynamics and an individual's personal psychology affect investor decisions.

This authoritative and practical book features contributions from professional psychologists, psychiatrists, academics, and investment practitioners who are among the leading thinkers and teachers in their fields. Among those sharing their innovative ideas and far-reaching thoughts on such topics as contrarian theory, momentum strategies, and investor overreactions are faculty members from Harvard Medical School and Harvard Business School, columnists from Forbes magazine, publishers of investment newsletters, and authors of investment related books.

Groundbreaking in the way it explores the connection between psychology and investment performance, it is essential reading for anyone seeking insight into this unique relationship.
Investor Overreaction (D. Dreman).

The Emotions of Risk (R. Geist).

Why It Is So Difficult to Sell (D. Cassidy).

The Psychology of Picking Stocks (M. Stichnoth).

Psychopathology of Everyday Investing (J. Schott).

Mindsets on Wall Street (S. Hayes).

Diagnosis Before Investment (H. Levinson).

Momentum Strategies (L. Chan, et al.).

The Misuse of Past-Performance Data (M. Hulbert).

Tilting the Investment Odds in Your Favor (S. Halpern).

The Stock Market Hysteria Still to Come (B. Chapman).

Index.
"This compendium does an excellent job of analyzing the important, but understudied, psychological forces in individual investing. It includes provocative discussions of topics such as the asymmetries between buy and sell decisions, the differential reactions to earnings surprises, and the emotional dynamics of momentum investing." -Robert C. Pozen, President and Chief Executive Officer, Fidelity Management and Research Company

"If everyone were perfect, profits form investing would not exist. The collective insights gained from The Psychology of Investing provide invaluable clues to imperfect human behavior and how to exploit it in the financial markets." -Arnold S. Wood, President and Chief Executive Officer, Martingale Asset Management, L.P.

"In the irrational world of finance, this book uses psychology to see beyond the myth of the 'rational investor.' This clear, easy-to-follow lesson in behavioral economics is truly a shining example of mind over money." -Thomas G. Gutheil, MD, Professor of Psychiatry, Harvard Medical School

"The contributors break new ground in addressing the complexities of investing from the perspectives of Personality Theory, Behavioral Finance, Organizational Psychology, Statistical Analysis, as well as through the eyes of the savvy market analyst. Eminently readable and technically sophisticated, this volume should stimulate more research into the world of money, markets, and motivations." -Robert W. Siroka, PhD, ABPP, Director, Center for the Pyschosocial Study of Financial Behavior, NYC