The Psychology of Social and Cultural Diversity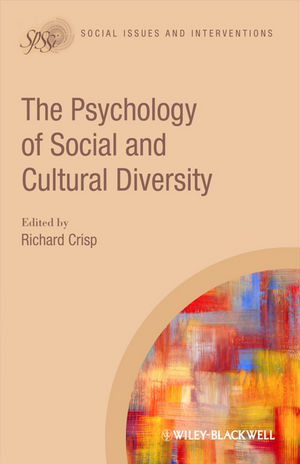 The Psychology of Social and Cultural Diversity
ISBN: 978-1-405-19562-1 August 2010 Wiley-Blackwell 384 Pages
Description
Promoting a scholarly understanding of the psychology of social and cultural diversity in the early stages of 21st century, this volume encourages an in-depth appreciation of the value in diversity while directly addressing social intervention and policy implications.
Offers, for the very first time, an integrated approach to the issues raised by  increasingly complex representations of social identity
Explores the psychological implications and applications of new forms of social and cultural diversity
Includes research from a diverse range of scholars that covers a broad spectrum of sub-disciplines
Discusses how the applications of multiculturalism and diversity research can encourage more positive intergroup relations
Develops an in depth understanding and appreciation of the value of social and cultural diversity
Notes on Contributors.
Series Editor's Preface.
1. Introduction (Richard J. Crisp, University of Kent).
Part I: Social Identity.
2 : Social identity complexity and acceptance of diversity (Marilynn B. Brewer).
3: Facilitating the development and integration of multiple social identities: The case of immigrants in Québec (Catherine E. Amiot and Roxane de la Sablonnière).
4: Costs and benefits of switching among multiple social identities (Margaret Shih, Diana T. Sanchez and Geoffrey C. Ho).
Part II: Culture.
5: Multicultural identity: What it is and why it matters (Angela-Minh,Tu D. Nguyen and Verónica Benet-Martínez).
6: What I know in my mind and where my heart belongs: Multicultural identity negotiation and its cognitive consequences (Carmit T. Tadmor, Sun No, Ying-yi Hong and Chi-yue Chiu).
Part III: Intergroup Attitudes.
7: Multiculturalism and tolerance: An intergroup perspective (Maykel Verkuyten).
8: Diversity experiences and intergroup attitudes (Christopher L. Aberson).
Part IV: Intergroup Relations.
9: The effects of crossed-categorizations in intergroup interaction (Norman Miller, Marija Spanovic, and Douglas Stenstrom).
10: Complexity of superordinate self-categories and ingroup projection (Sven Waldzus).
Part V:  Group Processes.
11: The categorization-elaboration model of work group diversity: Wielding the double-edged sword (Daan van Knippenberg and Wendy P. van Ginkel).
12: Divided we fall, or united we stand? How identity processes affect faultline perceptions and the functioning of diverse teams (Floor A. Rink and Karen A. Jehn).
Part VI: Interventions.
13: Combined effects of intergroup contact and multiple categorization: Consequences for intergroup attitudes in diverse social contexts (Katharina Schmid and Miles Hewstone).
14: The application of diversity-based interventions to policy and practice (Lindsey Cameron and Rhiannon N. Turner).
Index.


"I would recommend this book for use as core reading for a graduate-level course in the psychology of ethnic, social, or cultural diversity or as supplementary reading for a course on cross-cultural psychology or human diversity. It will be a useful addition to any course within one of these areas." (PsycCRITIQUES, 16 March 2011)