The Psychopharmacology Treatment Planner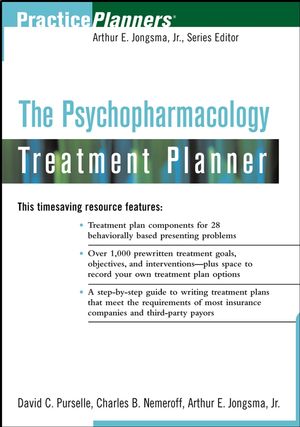 The Psychopharmacology Treatment Planner
ISBN: 978-0-471-47125-7
Mar 2004
288 pages
Description
The Psychopharmacology Treatment Planner provides all the elements necessary to quickly and easily develop formal treatment plans that satisfy the demands of HMOs, managed care companies, third-party payors, and state and federal review agencies.
Saves you hours of time-consuming paperwork, yet offers the freedom to develop customized treatment plans for clients whose therapy includes psychotropic drugs
Organized around 28 main presenting problems regularly treated with a combination of psychotropic and psychotherapeutic interventions or treatment modalities, from ADHD, dementia, and substance abuse to antisocial behavior, bipolar disorders, and more
Over 1,000 well-crafted, clear statements describe the behavioral manifestations of each relational problem, long-term goals, short-term objectives, and clinically tested treatment options
Easy-to-use reference format helps locate treatment plan components by behavioral problem or DSM-IV-TR(TM) diagnosis
Includes a sample treatment plan that conforms to the requirements of most third-party payors and accrediting agencies (including HCFA, JCAHO, and NCQA)
Practice
Planners
® Series Preface.
Acknowledgments.
Introduction.
Adjustment Disorder with Depression or Anxiety.
Anger Management.
Antisocial Behavior.
Anxiety.
Attention Deficit/Hyperactivity Disorder (ADHD)—Adult.
Borderline Personality.
Chemical Dependence—Relapse Prevention.
Chemical Dependence—Withdrawal.
Chronic Fatigue Syndrome.
Chronic Pain.
Cognitive Deficits—Dementia.
Cognitive Deficits—Developmental Disorder.
Depression.
Dissociation.
Eating Disorder.
Female Sexual Dysfunction.
Impulse Control Disorder.
Male Sexual Dysfunction.
Mania/Hypomania.
Medical Issues—Delirium.
Obsessive-Compulsive Disorder (OCD).
Phobia-Panic/Agoraphobia.
Posttraumatic Stress Disorder (PTSD).
Psychoticism.
Sleep Disturbance.
Social Discomfort.
Somatization.
Suicidal Ideation.
Appendix A: Commonly Used Psychiatric Medications.
Appendix B: Bibliotherapy.
Appendix C: Index of DSM-IV-TR Codes Associated with Presenting Problems.
Focuses on psychopharmacological treatments for each DSM-IV-TR category for which there are known treatments, including ADHD, major depressive disorders, bi-polar disorders, anxiety, etc.
Co-authored by two of the country's leading specialists in psychopharmacology
Includes a comprehensive index of psychopharmacological drugs used in treatment, ideal for student reference
Also includes index of DSM-IV-TR Codes associated with presenting problems addressed in the book