The Public Purpose of Education and Schooling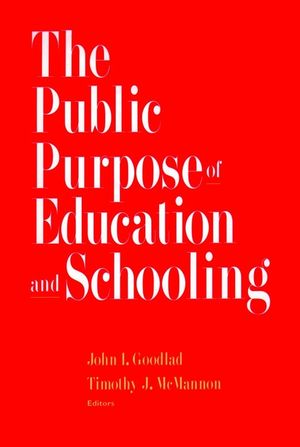 The Public Purpose of Education and Schooling
ISBN: 978-0-787-90934-5
Mar 1997, Jossey-Bass
208 pages
Description
"I have been waiting for this book for a decade. In an age in which the national debate on school reform is concerned principally with tactics and process, this volume focuses on the most important of all questions. What is the purpose of school? How do we know if a school is working? The authors are the most highly regarded names in education. This is an important book for anyone interested in schooling in America today."
-- Arthur Levine, president, Teachers College, Columbia University
Introduction: The Changing Purposes of Education and Schooling: A Look Back.

CONCEPTS.

1. Public Schooling: Education for Democracy (Benjamin R. Barber).

2. The Meanings of? Public Education? (Theodore R. Sizer).

3. Education, Equity, and the Right to Learn (Linda Darling-Hammond).

4. On Restoring Public and Private Life (Gary D Fenstermacher).

5. Toward a Democratic Rhetoric of Schooling (Donna H. Kerr).

6. Democracy: Do We Really Want It? (Roger Soder).

CONVERSATIONS.

7. Education for Civility and Civitas (Panel Discussion).

8. Prospects for Reform (Conversation with the Audience).

A PUBLIC AGENDA?

9. Reprise and a Look Ahead (John I. Goodlad).
"An essential resource for those grappling with policy, history, and politics in education." (Educational Leadership)

"I have been waiting for this book for a decade. In an age in which the national debate on school reform is concerned principally with tactics and process, this volume focuses on the most important of all questions. What is the purpose of school? How do we know if a school is working? The authors are the most highly regarded names in education. This is an important book for anyone interested in schooling in America today." (Arthur Levine, president, Teachers College, Columbia University)

"Anyone who has felt the onset of cynicism as wave after wave of `school reform' fades unnoticed will feel a burst of new optimism after reading this book. Goodlad and his colleagues remind us forcefully how worthy the ideal of public schooling is and how crucial it is to democracy and to the improvement of society's infrastructure." (Barry Munitz, chancellor, The California State University)

"This book is a genuinely helpful guide for going back to the basics in public school governance. It establishes a credible context in which the public purpose of education and schooling should be reexamined today by community leaders in America's 15,000 public school districts. It is a solid basis on which to begin and carry forth in each local community a searching review of the philosophy of the fundamental purpose of the public schools." (Thomas A. Shannon, executive director emeritus, National School Boards Association)

"The discussion started here by a panel of distinguished educators should become widespread among all those concerned with the meaning of 'public' in public education." (Nel Noddings, Lee L. Jacks Professor of Child Education, School of Education, Stanford University)