The Pursuit of Organizational Intelligence: Decisions and Learning in Organizations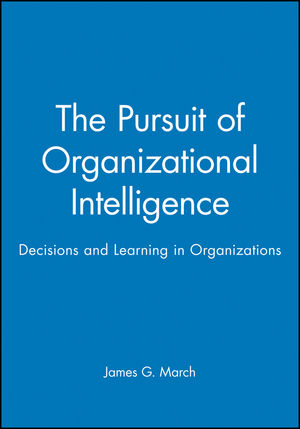 The Pursuit of Organizational Intelligence: Decisions and Learning in Organizations
ISBN: 978-0-631-21102-0
Jan 1999
408 pages
Description
The Pursuit of Organizational Intelligence brings together the writing of one of the best-known academics in the field of decision making and organizational theory.
1. Introduction.
2. Understanding How Decisions Happen in Organizations.
3. Continuity and Change in Theories of Organizational Action.
4. Institutional Perspectives on Political Institutions (with Johan P. Olsen).
5. Organizational Learning (with Barbara Levitt).
6. The Evolution of Evolution.
7. Exploration and Exploitation in Organizational Learning.
8. Learning from Samples of One or Fewer (with Lee S. Sproull, and Michal Tamuz).
9. Adaptive Co-ordination of a Learning Team (with Pertti H. Lounamma).
10. The Future, Disposable Organizations, and the Rigidities of Imagination.
11. The Myopia of Learning (with Daniel A. Levinthal).
12. Wild Ideas: The Catechism of Heresy.
13. Variable Risk Preferences and Adaptive Aspirations.
14. Variable Risk Preferences and the Focus of Attention (with Zur Shapira).
15. Learning to Be Risk Averse.
16. Model Bias in Social Action.
17. Organizational Consultants and Organizational Research.
18. Organizational Performance as a Dependent Variable (with Robert I. Sutton).
19. Science, Politics, and Mrs. Gruenberg.
20. Education and the Pursuit of Optimism.
21. A Scholar's Quest.
"The March collection is superb." Hans Pennings, Wharton School of Business, University of Pennsylvania.


Acts as a sequel to March's earlier Decisions and Orgainzations.


Brings together the writings of one of the leading figures in the field of decision making and organizational theory.


Reflects the shift in March's thinking and organizational theory generally.