The Questions of Life: An Invitation to Philosophy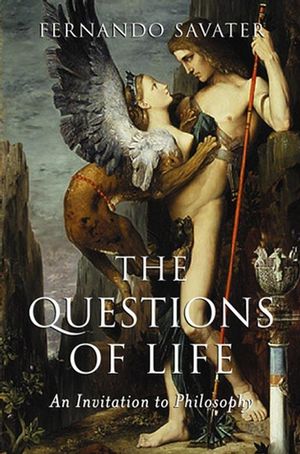 The Questions of Life: An Invitation to Philosophy
ISBN: 978-0-745-62628-4 February 2002 Polity 256 Pages
Description
This book, by one of Spain's most eminent philosophers, provides a lively and very accessible introduction to philosophy. Written for those who have no prior knowledge of the field, it reveals how the central problems of philosophy remain highly relevant to everyday contemporary life. Savater addresses the questions that we ourselves must face: what is this 'I' that I take for granted? What does it mean for me to be in the world? In what sense am I free? And how does the idea of death affect my life?
In his discussion of concepts such as beauty, time and language, Savater frequently refers to earlier philosophers, yet he does so in a way that brings their ideas to life and shows their enduring relevance. Using quotations from the ancient Greeks through to more recent philosophers such as Wittgenstein and Sartre, Savater illustrates his own arguments, while also sketching a basic history of philosophical ideas.

The Questions of Life has already been translated into ten languages and has enjoyed enormous success, selling over 70 000 copies in Spain alone. It is an elegant and straightforward book that abstains from specialised terminology. It constitutes an ideal introductory text for those studying philosophy at A-Level or university, and will also be of great interest to the general reader.
Table of contents
Preface.
Introduction: Why Philosophy?.
Chapter One: Let us begin with death.
Chapter Two: The truths of reason.
Chapter Three: I inside, I outside.
Chapter Four: The symbolic animal.
Chapter Five: The world and its outskirts.
Chapter Six: Freedom in action.
Chapter Seven: Artificial by nature.
Chapter Eight: Living together.
Chapter Nine: The shiver of beauty.
Chapter Ten: Lost in time.
Epilogue: Life without meaning?.
Farewell.
Suggested further reading.
Appendix.
Notes.
Index
Reviews
"His introductory guide to the more basic queries, as well as more abstract notions such as beauty, language and love, pulls in references from Socrates to Sartre and everywhere in-between...buy it."
The Scotsman

"A wholly accessible exploration and explanation of some key philosophical themes."

Asia Intelligence Wire

"This book casts philosophy first and foremost as part of a reflective life and not at all limited to academic study. As a result, it encourages readers to undertake philosophy as a living, open-ended practice."

Charles Taliafero, St Olaf's College, Northfield
Features


An engaging and accessible introduction to philosophy


Relates the big philosophical questions to the problems in our everyday lives


Written by Spain's most famous philosopher. Has sold extremely well in Spain (over 70 000 copies) and throughout Europe.