The Radical Team Handbook: Harnessing the Power of Team Learning for Breakthrough Results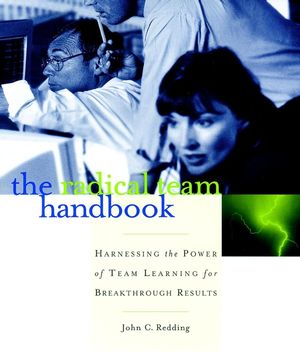 The Radical Team Handbook: Harnessing the Power of Team Learning for Breakthrough Results
ISBN: 978-0-787-95161-0
Oct 2000, Jossey-Bass
256 pages
Description
The problems they face are more complex than ever. The pressure to deliver the right solutions more intense. So how do teams in today's rapid-fire business environment keep up?
According to John Redding, today's teams need a new approach to achieving their goals-a radical approach. And he should know. Redding, after all, headed a five-year research project, the result of which was the radical teamwork method, a method proven to be eminently more effective than any traditional approach to teamwork. Among other innovations, the radical team method is designed to generate creative thinking, encourage risk-taking, and greatly bolster team learning to produce exceptional results. In this book, Redding translates the findings of his project into a hands-on guide you can use to create radical teams for your organization and put them to work.
You'll learn how to identify the projects in your own organization that require the radical team approach. You'll use checklists, exercises, and worksheets to master a series of action steps for applying this approach to some of today's toughest business issues. And you'll get the tools you need to implement radical teamwork throughout your organization, from selecting and training team members, to leading and coaching radical teams, and assessing their effectiveness.
Throughout the book, case studies drawn from radical team experiences in a variety of organizations bring home the practical aspects of the approach-an approach that promises to become the standard by which all organizations will tackle their most important strategic challenges.
THE RADICAL TEAM APPROACH.

Radical Teams: An Introduction.

A Matter of Learning.

Assessing Team Learning.

Harnessing the Power of Team Learning.

RADICAL TEAMS IN ACTION.

Increasing Speed: Action Steps.

Increasing Depth: Action Steps.

Increasing Breadth: Action Steps.

Support for Radical Project Teams.

Conclusion: The Personal Side of Radical Teams.

Quick Guide to Application Exercises.

Terms Used in this Book.

Notes.

References.
"For teams that struggle with projects demanding new approaches and ways of thinking, Redding's radical team approach has the potential to produce faster and greater results than any other approach I've tried." --Louis J. Sharp, Ph.D., director, research and development, Bisco, Inc.

"Finally, a book on teams that has something new and different to say. Using solid examples, John Redding has produced a useful guide for problem-solving teams." --Glenn Parker, team-building consultant; co-author, Rewarding Teams

"This book responds to the urgent need to deal with complex problems that defy traditional solutions. It's a valuable resource for teams charged with delivering dramatic results." --John. A. Niemi, distinguished teaching professor, Northern Illinois University

"In The Radical Team Handbook, John Redding tells us why the old rules of business no longer apply. He presents, in a clear and lucid manner, the ways in which teams within organizations must reshape themselves if they are to work in the future. Every successful team hears the call to 'think outside the box.' At last, we have a book that tells them how to do it!" --Jeffrey K. Pinto, author, The Project Management Institute Project Management Handbook