The Reading Teacher's Survival Kit: Ready-to-Use Checklists, Activities and Materials to Help All Students Become Successful Readers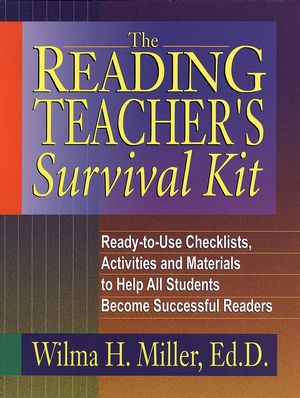 The Reading Teacher's Survival Kit: Ready-to-Use Checklists, Activities and Materials to Help All Students Become Successful Readers
ISBN: 978-0-130-42593-5 October 2001 Jossey-Bass 512 Pages
Description
The strategies and materials presented here provide the best of whole language and phonics instruction for setting up an appropriate, well-paced reading program that meets the needs of individual students, small groups, or the entire class, grades K-8. For quick and easy access, the Kit is organized into eight sections and includes such practical information as:
* Over 80 stimulating hands-on games and activity sheets to build students skills in letter-name knowledge, sight word recognition, word structure, and more.
* Up-to-date information and materials for teaching reading to students with special needs
* Comprehensive lists of fiction and nonfiction trade books that reinforce the learning of essential reading skills
The Practical Help That This Book Offers.

Chapter 1: Introduction.

Chapter 2: Assessing Reading Strengths and Weaknesses..

Chapter 3: Improving Ability in Letter Name Knowledge and Sight Word Knowledge.

Chapter 4: Improving Ability in Phonics.

Chapter 5: Improving Ability in Word Structure and Context.

Chapter 6: Improving Vocabulary and Comprehension Skills.

Chapter 7: Teaching Reading to Students with Special Needs.

Chapter 8: The Support of Family Members and Friends with Reading.