The Reality of the Mass Media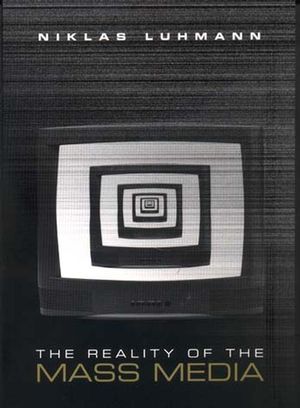 The Reality of the Mass Media
ISBN: 978-0-745-62132-6 June 2000 Polity 160 Pages
Download Product Flyer
Download Product Flyer
Download Product Flyer is to download PDF in new tab. This is a dummy description. Download Product Flyer is to download PDF in new tab. This is a dummy description. Download Product Flyer is to download PDF in new tab. This is a dummy description. Download Product Flyer is to download PDF in new tab. This is a dummy description.
Description
In T
he Reality of the Mass Media
Luhmann extends his theory of social systems - applied in his earlier works to the economy, the political system, art, religion, the sciences and law - to an examination of the role of mass media in the constitution of social reality.
Luhmann argues that the system of mass media is a set of recursive, self-referential programmes of communication, whose functions are not determined by the external values of truthfulness, objectivity, or knowledge, nor by specific social interests or political directives. Rather, he contends that the system of mass media is regulated by the internal code information / non-information, which enables the system to select its information (news) from its own environment and to communicate this information in accordance with its own reflexive criteria.

Despite its self-referential quality, however, Luhmann describes the mass media as one of the key cognitive systems of modern society, by means of which society constructs the illusion of its own reality. The reality of mass media, he argues, allows societies to process information without destabilizing social roles or overburdening social actors. It forms a broad reservoir (memory) of options for the future co-ordination of action, and it provides parameters for the stabilization of political expectations. In these respects, it has a crucial function in the general self-reproduction of society, as it produces a continuous self-description of the world around which modern society can orientate itself. In his discussion of mass media, Luhmann elaborates a theory of communication in which communication is seen not as the act of a particular consciousness, nor the medium of integrative social norms, but merely the technical codes through which systemic operations arrange and perpetuate themselves.

This book will be of great interest to third year students, graduate students and scholars in sociology, politics, social and political theory, media and cultural studies and communication studies.
Table of contents
1. Differentiation as a Doubling of Reality.
2. Self-reference and other-reference.
3. Coding.
4. System-specific Universalism.
5. News and In-Depth Reporting.
6. Ricúpero.
7. Advertising.
8. Entertainment.
9. Unity and Structural Couplings.
10. Individuals.
11. The Construction of Reality.
12. The Reality of Construction.
13. The Function of the Mass Media.
14. The Public.
15. Schema Formation.
16. Second-order Cybernetics as Paradox.
Notes.
Index.
Reviews
'This brilliant book is of interest both as an insightful contribution to media studies theory and as a lively and readable application of Luhmann's ingenious and influential system, which neatly descibes the paradoxes of media(ted) reality.' William Outhwaite, University of Sussex
Features
* An important work by one of the leading social thinkers of the late twentieth century.

* This book is one of Luhmann's most systematic statement about the nature of the media. He examines the media from the distinctive perspective of his theory of social systems.

* Luhmann's work has already made a great impact on the study of law, political sociology, anthropology and government; this book demonstrates the importance of his thought for anyone concerned with the nature and impact of the media in the modern world.