The Red Book: A Deliciously Unorthodox Approach to Igniting Your Divine Spark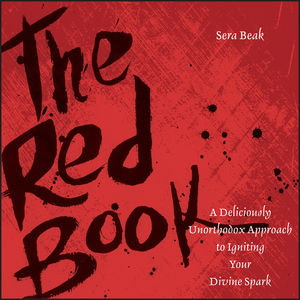 The Red Book: A Deliciously Unorthodox Approach to Igniting Your Divine Spark
ISBN: 978-1-118-04091-1
Dec 2010, Jossey-Bass
320 pages
Description
The Red Book is nothing less than a spiritual fire starter -- a combustible cocktail of Hindu Tantra and Zen Buddhism, Rumi and Carl Jung, goddesses and psychics, shaken with cosmic nudges, meaningful subway rides, haircuts, relationships, sex, dreams, and intuition. Author Sera Beak's unique hybrid perspective, hilarious personal anecdotes, and invaluable exercises encourage her readers to live more consciously so they can start making clearer choices across the board, from careers to relationships, politics to pop culture and everything in between. For smart, gutsy, spiritually curious women whose colorful and complicated lives aren't reflected in most spirituality books, The Red Book is an open invitation to find your true self and start sharing that delicious truth with the world.
Preface.
Prelude to a Kiss.
Introduction.
Wake Up.
1 Light the Match.
Set Your Intentions Free.
2 The Beaming You Who.
Gods, Goddesses, and the Blind Man's Elephant.
3 Are You Really Gonna Eat That?
Grazing at the Spiritual Buffet, Respectfully.
4 Sacred Lipstick and Cosmic Lattes.
1001 Ways to Give Prayer a Makeover.
5 Catapult Your Inner Waitress.
Ritualize Your Life; You'll Just Feel Better.
6 Divine Winks.
The Universe Wants Your Attention. Will You Wink Back?
7 Dream On.
Widening the Spotlight in Your Internal Theater.
8 Peeling Your Onion.
Who Do You Think You Are?
9 When Sparks Fly.
Know Your Self, Transform the World.
10 Breaking the Rules.
Healthy Transgressions Make the Heavens Applaud.
11 Open Up and Say Ahhh.
Sex. Spirit. The Twain Shall Meet—Under Your Covers.
12 Sitting Down and Shutting Up.
The Best Spiritual Tool You Will Ever Learn, Ever (Except for the One in Chapter Thirteen).
13 Know That You Know.
Trusting Your Intuition with Your Life.
14 Keep Your Self Buzzing.
Crank Your Vibe; It's Your Cosmic Duty.
15 The Joke's on Us.
The One Mandatory Ingredient for Every Path.
16 Roar.
Finale (Like Red Wine Spilled onto a Mattress).
17 Judge a Book by What You Uncover.
Resources to Keep You Blazing.
Select Bibliography.
Acknowledgments.
The Author.
Beak, a religious scholar and writer for the San Francisco Chronicle Web site, sfgate.com, presents a brief but potent book focused on invigorating spirituality in the 20- or 30-something American woman. She vividly criticizes the patriarchal interpretation that has dominated most belief systems for centuries, and then quickly moves on to create her own feminist one. Beak encourages her female audience to do so as well, with their own ""red book"" modeled after hers, which was first given her as a birthday gift by her sister after their grandfather's death. Beak initially rejected the idea of keeping a journal, but soon found herself writing down prayers, recording dreams and in essence keeping a spiritual scrapbook. Avoiding the typical sentimentality, Beak's vision is a modern, femme fatale spirituality. The book lives up to its ""unorthodox"" subtitle, advocating that young women search for the spiritual in all things, even sex (memorably in a chapter called ""Open Up and Say Ahh""). Beak calls herself a ""spiritual cowgirl,"" taking her readers along for the ride. Her writing is probably too brazen for more conservative spiritual readers, but she displays poignant insights throughout. (June 16) (Publishers Weekly, February 27, 2006)