The Rediscovered Benjamin Graham: Selected Writings of the Wall Street Legend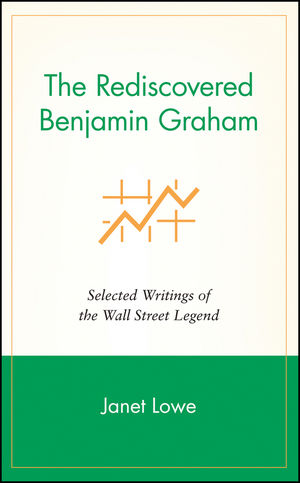 The Rediscovered Benjamin Graham: Selected Writings of the Wall Street Legend
ISBN: 978-1-119-08705-2 May 1999 304 Pages
Description
"The sillier the market's behavior, the greater the opportunity for the business-like investor. Follow Graham and you will profit from folly rather than participate in it."-Warren E. Buffett.

"[Graham] is the genius who literally created the framework for investment analysis that leads to successful investing. Like that other genius Edison, Graham created light where there was none." -Bill Ruane, Sequoia Fund.

"It's never the wrong time to invoke the name of Benjamin Graham, value investor par excellence." -Money

"The search for intelligent investing should begin with the remarkable Benjamin Graham's timeless teachings. Read Lowe's book and you'll learn to seek what the original master sought as she helps Graham reclaim his rightful place as the most important and extraordinary investment writer of any generation."-Kenneth Lee, author of Trouncing the Dow.

Known as the "father of value investing," Benjamin Graham was-and is-one of America's most lauded financial thinkers. Billionaire investor Warren Buffett, a former student of Graham, extols him to this day. Brilliant, successful, and ethical, he revolutionized investment philosophy by introducing the concepts of security analysis, fundamental analysis, and value investing-theories that have become timeless essentials of the field. Now, Janet Lowe, author of Benjamin Graham on Value Investing and Warren Buffett Speaks, reintroduces the foundations of Graham's eminence-including his ever-relevant market observations and his assessment of long-term economic problems-by presenting a unique compilation of his writings that contains rare and/or previously unpublished articles, lectures, and interviews.

Almost twenty-five years after his death, Benjamin Graham continues to have one of the largest and most loyal followings of any investment philosopher of this century. A prolific and popular writer whose trademark was blending original ideas with wit and intelligence, he has guided and inspired Wall Street professionals with his thoughtful ruminations and piercing insights on a host of investment and economic topics. Though bits and pieces of this material are widely quoted even today, the full writings have not always been easy to find-until now.

The result of in-depth research, The Rediscovered Benjamin Graham brings together the very best the investment legend had to offer, including such incisive works as:
* "Inflated Treasuries and Deflated Stocks: Are Corporations Milking Their Owners?"
* "The Ethics of American Capitalism".
* "Proposals for an International Commodity-Reserve Currency".
* "The New Speculation in Common Stocks".
* "Is American Business Worth More Dead Than Alive?".
* "The Simplest Way to Select Bargain Stocks".

A groundbreaking volume that fills an important niche in investment literature, The Rediscovered Benjamin Graham is destined to become as timeless a classic as its distinguished subject.

Jacket Design: Don Welsh
Table of contents
Benjamin Graham and Security Analysis: A Reminiscence.
THE BUSINESS AND ETHICS OF FINANCE.
Is American Business Worth More Dead Than Alive?
The Ethics of American Capitalism.
ABOUT STOCKS AND THE STOCK MARKET.
The New Speculation in Common Stocks.
Stock Market Warning: Danger Ahead!
Renaissance of Value.
The Future of Common Stocks.
ABOUT THE PROFESSION OF INVESTING.
Toward a Science of Security Analysis.
Testimony Before the Committee on Banking and Currency, United States Senate.
INVESTMENT STRATEGIES.
Current Problems in Security Analysis.
THE COMMODITY RESERVE PLAN.
Proposals for an International Commodity-Reserve Currency.
Summarization of the Multiple Commodity Reserve Plan.
INTERVIEWS WITH BENJAMIN GRAHAM.
Benjamin Graham: The Grandfather of Investment Value Is Still Concerned.
The Simplest Way to Select Bargain Stocks.
An Hour with Mr. Graham.
Index.
Reviews
"Graham's thoughts are as relevant as they ever were. Go forth and seek value." (Investor's Week, 2nd November 2000)
Notes
Companion Site
View the companion site which features the full transcript of the lectures in the book.